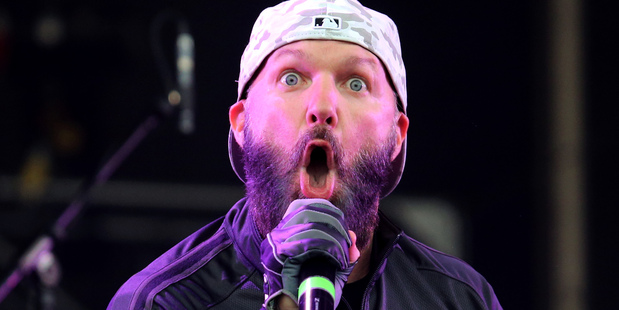 Fred Durst and his rag-tag band of rowdy nu-metallers are responsible for many crimes against music. But their latest effort might just be the worst yet.
Called Endless Slaughter, the first single from the reformed Los Angeles-based rock act's upcoming album was released for free on their website over the weekend - and has been mocked mercilessly ever since.
Listen to Endless Slaughter:
The song is a cacophony of styles, with Durst sounding drunk during his wildly out-of-time and out-of-tune lyrics. At times he is indecipherable.
It also includes snippets of snorting elephants.
The song's nadir comes around the 3.20-mark, when Durst starts whining in a nasally drawl: "I am no longer under you, you are the one that's under me now."
It then turns into a Guns N Roses style riff-fest, morphs into ska-fuelled 90s pop-rap track, and ends in a flurry of awkwardly cliched rhymes that appear to mimic Cypress Hill.
If they were trying to record a nu-metal version of Queen's Bohemian Rhapsody, they probably succeeded.
But the song has sparked headlines like, 'Limp Bizkit release the worst Limp Bizkit song of all time', and listeners didn't hold back on criticisms on the song's YouTube page.
"Limp Bizkit keep finding new ways to be absolute s*** ... The description tells me to go download the song for free from their website, how about NO," wrote one.
"I really hope this is meant to be a joke. This song is honestly beyond awful," wrote another.
"I am willing to bet that this track was meant to troll people, they can't be serious releasing s*** like that," said a third.
Another called it "the worst single of 2014".
But some fans did pluck up the courage to try and defend it.
"Limp Bizkit still getting noticed like it's 1999. I'm surprised this many people still get passionate enough to hate them," said one.
And another diehard fan said: "This is freaking good, this is the old Bizkit sound! Only the lyrics are a bit too easy. Keep on rollin' Bizkit!"
Limp Bizkit say its new album, Stampede of the Disco Elephants, will be released before the end of the year.
- nzherald.co.nz