In the week that marks 100 years since the start of World War I, NZ On Screen Content Director Irene Gardiner selects some significant film and television snippets about "the Great War".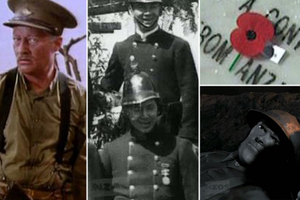 New Zealand received the news of the outbreak of World War I on August 5, 1914. As film technology was primitive back then, there is very little actual footage of New Zealanders' involvement in WWI, though there are a few great fragments.
One of them is this (silent) film record of the civic reception of returning WWI hero Lieutenant John Grant in 1919. The Hawera builder won a Victoria Cross (aged 28) for raiding several German machine-gun 'nests' - by leaping into them - near Bapaume, France on September 1, 1918.
You can see this rare early footage here:
There may not be much actual film footage of New Zealanders in WWI, but over the years we've had some excellent films and documentaries telling their stories.
One of the most innovative is the animated short film Poppy, where motion capture CGI evokes a bleak Western Front landscape, and the moving story of two Kiwi soldiers who discover a baby in a muddy trench. David Coyle wrote the script, based on his great-grandfather's war story. The film has won acclaim both at home and abroad at international festivals.
You can view Poppy here:
We've also had a feature film about World War I - Chunuk Bair, from 1991. The film dramatises the ill-fated offensive that New Zealand soldiers undertook during World War I's Gallipoli campaign. On August 8, 1915, the Wellington Battalion briefly seized Chunuk Bair, a pivotal peak overlooking the Dardanelles. They suffered huge losses. Filmed on an Avalon set and the Wainuiomata coast, the story was based on Maurice Shadbolt's classic play Once on Chunuk Bair. The film got a mixed reaction in its time, but it has interesting historic value.
This excerpt features veteran actor Kevin J Wilson and a rousing speech:
As well as dramatic re-tellings of our World War I stories, there have also been a number of excellent documentaries on the subject, with Gallipoli a particular focus.
Still considered the most seminal Gallipoli documentary is 1984's Gallipoli - The New Zealand Story. The award-winning programme tells the stories of the New Zealand soldiers at Gallipoli. As part of research, every one of the then-surviving Gallipoli veterans living in New Zealand was interviewed, with 26 finally filmed.
You can see Gallipoli - The New Zealand Story here:

A more recent Gallipoli-themed documentary is Anna Cottrell's excellent Children of Gallipoli, from 2001. This thoughtful piece gave NZ viewers, for the first time, a Turkish view of the Gallipoli story. The documentary focuses on four young people, two Turks and two New Zealanders, all descended from men who fought at Gallipoli in 1915. Travelling to Turkey, the New Zealanders explore the battle site and meet the other two participants and together they gain an insight into the grim reality of what their ancestors went through.
Watch the documentary here:
You can see NZ On Screen's full World War I collection here.