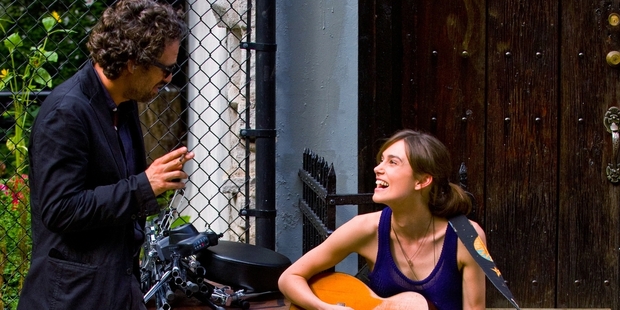 Anecdotal evidence seems to indicate people either love or hate English actress Keira Knightley. If there was ever a film you should set aside your reservations about her to see, it's this feelgood musical by Irish filmmaker John Carney, writer and director of critically acclaimed indie romance Once.
Begin Again is a charmer, with Knightley delivering a toned-down performance as the affable lead character, and the pleasant surprise that she's a rather lovely singer.
She plays singer/songwriter Gretta, who moves to New York with her on-the-verge-ofrock stardom musician boyfriend Dave (Maroon 5's Levine). It's not long before Gretta is heartbroken, an experience she sings about at an open mic night in a dingy NY bar.
It's here she meets equally lost Dan (Ruffalo), a barely functioning Grammy Award winning music producer whose career and personal life is at a low point. Dan becomes obsessed with recording Gretta's songs and, with the help of her friend Steve (played by a hilarious James Corden) and a few of Dan's old clients (including Cee Lo Green), they decide to record Gretta's gorgeous pop songs on the streets of Manhattan.
With a cast of recognisable names, Begin Again is a glossier, bigger version of the edgy, raw Once. It's filled with relationships that inspire music, but this time round the love affairs are mostly in the past and the music is a way for the characters to find themselves again.
The cast brings this NY fairytale to life, Knightley and Ruffalo connecting effortlessly. Knightley is also convincing as a singer, tackling with grace in a soft and lilting style the film's sweet and upbeat songs, written mostly by Greg Alexander, lead singer of New Radicals. Adam Levine deserves a mention for his debut feature film appearance. He may be playing what he knows, a musician, but he holds his own among his more experienced castmates.
Watch the trailer for Begin Again here:
Begin Again is sometimes too good to be true and for a film that makes much of the integrity of a song it's a little contradictory: the music Dan and Gretta record in the subway and Central Park sounds straight from the studio.
But that's just a quibble. This is a film oozing heart, likeable characters, a glorious summer in New York and songs to make you smile.
Cast: Keira Knightley, Mark Ruffalo, Adam Levine
Director: John Carney
Running Time: 104m
Rating: M (offensive language)
Verdict: A charmer that will put a smile on your face.
- TimeOut