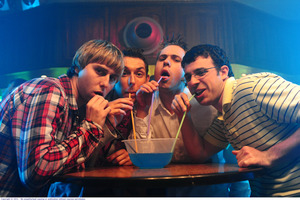 The stars of The Inbetweeners 2 are set to return Down Under where they filmed the sequel to the hit British comedy.
Actors Simon Bird, James Buckley, Blake Harrison and Joe Thomas will meet fans at premieres in Gold Coast Sydney and Melbourne before heading over the ditch to Auckland.
They will be joined by co-director Iain Morris, who along with Damon Beesley created The Inbetweeners - the popular British TV series that became a movie in 2011 and grossed over $9.2 million in Australia.
Given that Morris and Beesley shot the sequel in Australia - on the Gold Coast, at Byron Bay, Sydney and the remote South Australian town of Maree - they couldn't imagine not coming back.
"We could not be more excited about coming back to Australia. The last time we were there England were being embarrassed in The Ashes, but even that couldn't spoil the fun we had.
"We had an incredible time shooting there and were lucky enough to see dawn in Byron Bay, a full moon over Sydney Harbour and the splendour of the Maree Hotel at 4am amongst other things," the first-time directors said in a statement.
"We're also heading to New Zealand, which has a special place in our hearts because of the great friends we have there, and because Flight of the Conchords allowed us to write our other piece about Australia - the episode Unnatural Love."
The stars will appear at a fan event in Auckland on August 17.
- AAP