Aucklanders should have been queueing to hear such fresh and zesty Haydn, Korngold and Schumann.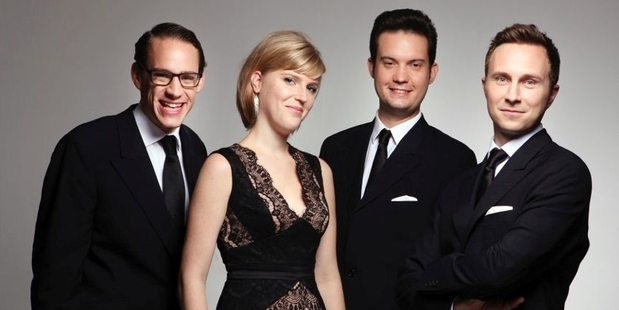 The Doric String Quartet's Town Hall concert fully deserved the crowd that Auckland mustered for Saturday's Tristan und Isolde. Here was a top-notch ensemble, playing music that should have been familiar from its well-received CDs.
Once again, too many empty seats left one lamenting this city's resistance to the high-quality concerts that Chamber Music New Zealand so valiantly brings us.
Haydn's Emperor quartet provided a zesty launchpad for the evening, dispatched with a freshness that may have caused a flutter in conservative hearts.
A bold first movement had the group toying with dynamics, textures and tempo to emphasise the sheer inventiveness of Haydn's writing.
Most dramatically, the hymn-tune of the slow movement was almost a romantically fired idyll, complete with willowy portamenti from leader Alex Redington.
Cellist John Myerscough introduced the Quartet No 2 of Erich Korngold, a score written on the eve of the composer's move to America in the mid-1930s.
It was busy almost to the point of hyperactivity, as its composer brings a 19th century language into the domain of Stravinsky.
The Doric players, who have a special connection with this composer, gave the definitive performance.
There was some scrumptious humour in the Finale's Viennese waltz but, before that, the most telling experience came in an eerily beautiful slow movement.
Here was a ghostly glimpse of the lush themes that Korngold would soon create for Hollywood.
Last week, talking to Myerscough, I was warned that the group's Schumann might be a little "over the top" because of the extraordinary mood shifts in the Third Quartet.
In concert, expectancy was rewarded with almost 30 minutes spent on the edge of the seat.
There was crispness and immaculate phrasing along with the jolt of the unexpected when evanescent sighs were interrupted by the brusque slash of cadences.
The English musicians took us on a fascinating journey including a lingering, soulful Adagio molto. Only in the slightly repetitious Finale was there disappointment, more to be blamed on the pen of the composer than the talents of his musicianly advocates.
What: Doric String Quartet
Where: Auckland Town Hall
When: Sunday