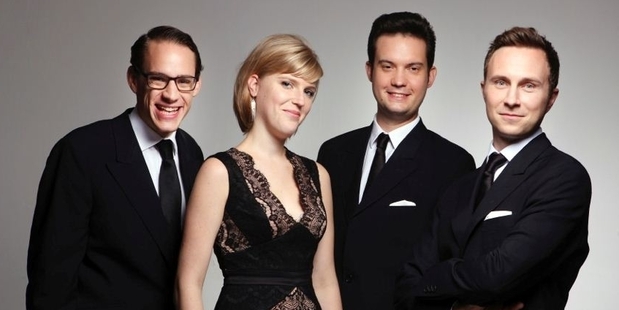 Britain's Doric String Quartet, in town for Chamber Music New Zealand, first visited us in 2010 when they gave us superlative Haydn and Britten, as well as joining pianist Piers Lane for Schumann's Piano Quintet.
Cellist John Myerscough has vivid memories of those weeks. "It was such a serious tour at that stage of our career," he says. "We had wonderful audiences and great venues such as the Auckland Town Hall. Although there was the disappointment of driving from New Plymouth to Napier on a cloudy day and not seeing a single thing."
The quartet came together in 1998, although Myerscough first met violinist Alex Redington at the age of 9 when playing in a chamber music course. Contact continued and, years later, they decided "to put together a group of our own and work in a more serious and intensive way".
Winning top prize at the 2008 Osaka International Chamber Music Competition came at an important time, Myerscough says.
"We'd just got a new viola player and felt we had to prove we were still a serious ensemble. Along with our second prize at the Premio Paolo Borciani a few months later, this led to us getting international agents, which was a major career catalyst."
He smiles when I ask about the group's involvement with Paris' Pro-Quartet professional training programme. "The title's misleading," he says. "It sounds like an institution where you might be locked up to work on your intonation, but there was nothing as brutal as that."
It was here they met Rainer Schmidt of the Hagen Quartet "who influenced us so much on so many levels", Myerscough says. "Rainer instilled in us a real curiosity about the scores we were playing, encouraging us to question every sound and decision we made. By looking closely at what composers had written, we'd think about harmony in particular - something that a pianist does automatically, but for string players it's not so immediate." Chamber Music New Zealand is promoting the Doric ensemble as being in the proud tradition of British string quartets. "But we've positioned ourselves more in the European tradition. Britain can have a certain island mentality.
"A lot of people are really passionate about what goes on inside the country but we always try to break out from that. Yet we are British. As such I suppose we can't help being part of a proud tradition and we're pleased to be seen as following that."
Today's concert of Haydn, Korngold and Schumann reflects the group's successful recordings on the Chandos label. Finishing touches are being put to a CD of Australian Brett Dean's music. Auckland misses Dean's Eclipse which is being played in Hamilton on Tuesday and broadcast live from Wellington on Radio New Zealand Concert on Friday.
Myerscough says the inclusion of Korngold's Second Quartet reminds him it was the group's radio performance of this composer's music that led to a recording contract with Chandos.
Schumann's Third Quartet is a favourite, with its elusive rhythms and textures. "Nothing's normal," he laughs. "We're always playing at extremes and love the challenge of it so much." The concert opens with Haydn's Emperor Quartet and why not, as Myerscough makes clear. "When it comes to string quartets, Haydn's the man. No one writes better for the medium. The variety, the imagination and the huge range of emotions are just extraordinary. And there are so many of them."
Performance
What: Doric String Quartet.
Where and when: Auckland Town Hall, today at 5pm; Hamilton, Gallagher Academy of Performing Arts, Tuesday at 7.30pm.
On air: Radio New Zealand Concert, Friday at 8pm.