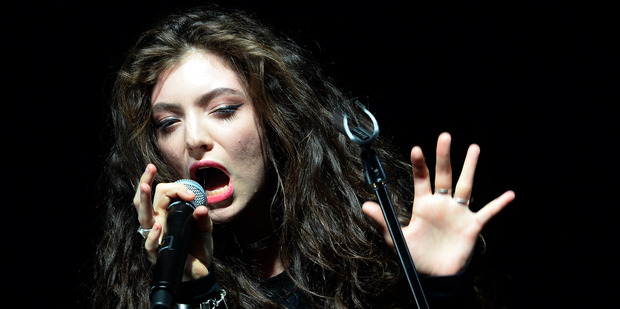 Lorde has reacted with amusement to her two nominations in the MTV Video Music Awards saying she's the "black sheep of both my categories".
Lorde is nominated in the "Best Female Video" and "Best Rock Video" divisions - the heavyweight competition of the former and her outsider status in the latter setting off a series of tweets from the New Zealand star...
"OMG i am the black sheep of both my categories hahahaha".
"also you can do votes if you feel (this probably sounds faux casual but let's face it, i'm up against katy and bey"

"whether we win or not, it blows me sideways that a video starring my friends, my train platform & my game arcade could even be up for a vma"
Lorde's competition in the Best Female category is:
Ariana Grande feat. Iggy Azalea for Problem
Beyonce for Partition
Iggy Azalea feat. Charli XCX for Fancy
Katy Perry feat. Juicy J for Dark Horse
Lorde's competition in the Best Rock category is:
Arctic Monkeys for Do I Wanna Know?
The Black Keys for Fever
Imagine Dragons for Demons
Linkin Park for Until It's Gone

The director of Royals, Joel Kefali is among the directors in the Loading Docs project which is featured on nzherald.co.nz.
Watch his short documentary Baba here
The MTV Video Music Awards are dominated by Beyonce, who is up for eight moonman trophies, including video of the year for Drunk in Love.
Iggy Azalea and Eminem are nominated for seven awards each.
Pharrell is the only male nominated for the top prize.
Along with Beyonce, his Happy will compete with Azalea's Fancy, Miley Cyrus' Wrecking Ball and Sia's Chandelier for video of the year.
Beyonce's Partition is nominated for best female video and cinematography, while the Jay Z-featured Drunk in Love is up for best collaboration.
Both songs are from Beyonce's self-titled fifth album, which she released in surprise form last year with all of the tracks' music videos.
"This album was a labour of love and she had such a vision of wanting to be able to tell the story of this album visually as well as audio," said Lee Anne Callahan-Longo, general manager of Beyonce's production house, Parkwood Entertainment.
"She really, really set out to do something special in a visual medium.
Beyonce's Pretty Hurts, a video displaying women's body issues and insecurities, is nominated for best direction, editing and video with a social message.
Watch the video for Pretty Hurts here.
Azalea is still riding high on the success of Fancy, which spent seven weeks on top of the Billboard charts and is nominated for best pop video and female video.
The Australian performer will compete twice in both categories thanks to her other hit, the Ariana Grande smash Problem. The rapper is not nominated for best hip-hop video, though.
Eminem's seven nominations include the latter and best male video, where he will compete with Pharrell, John Legend, Ed Sheeran and newcomer Sam Smith.
The VMAs will air live Aug. 24 from The Forum in Inglewood, California. Performers will include Grande, Usher and 5 Seconds of Summer.
Fans can vote via http://www.mtv.com/ontv/vma/

Herald online/AP