Singer-songwriter Ivy Rossiter tells Lydia Jenkin why she feels vindicated by her gloomy themes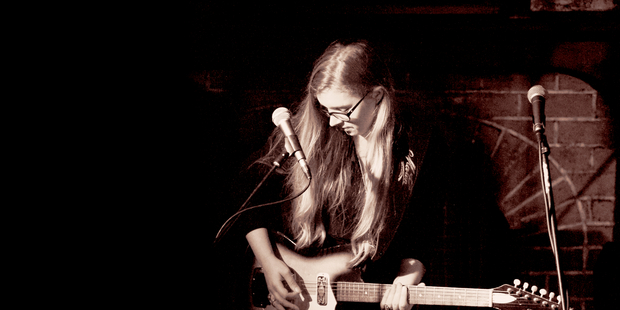 People occasionally tell Ivy Rossiter that Luckless seems like a terrible band name, what with its somewhat negative, even pessimistic connotations, but she's fully aware of that -- in fact it's why she chose it.
"The music that I listen to, and the stories I connect with tend to reflect upon the less positive things in life, the melancholy, the darkness. I think it's important to enjoy the things that are negative as well as the positive. Better to have it out in the open than try to sweep it under the rug."
Listen: Click here to listen to Vindication Blues streaming on nzherald.co.nz
That might sound like a bit of a gloomy attitude, and the title of her latest album Vindication Blues would seem to reinforce that, but rest assured, Rossiter is delightful company, with a ready laugh and smile, and her music is as hopeful and warm, and even upbeat, as it is angry or sorrowful -- she's just pragmatic and clear-eyed about it.
So perhaps it's not surprising that the music that she connected with and that opened her ears as a teen was punk. A friend made her a tape of a band called Operation Ivy (because of her name) and she was soon hooked, heading along to all-ages shows in Auckland.
"It was so exciting to me, because I felt so much more connected to it than I did to the other stuff. They were singing about things I thought were important -- politics and race relations, and typical issues, and so that really opened up a new world to me."
She'd been playing classical guitar since about the age of 8, but that didn't fit with her idea of what was going on up on stage or on those records, so it wasn't until deciding to push herself into doing performance music at university that she started writing her own songs and performing.
She had terrible stage fright and didn't like her own songs to begin with, but forced herself into it, and eventually Luckless was born. It started as a solo project, with a drum machine and loop pedal, and a little Ani DiFranco inspiration ("It's a little embarrassing now, but at the time, I was really into that kind of political, feminist, angry folk music thing.") and has been developing ever since.
Two years ago she released her debut album, a finely crafted collection created as a drums and guitar duo, which channelled influences from PJ Harvey and Nick Cave, into a sparse soundscape full of drama and literary inspiration. Then a few things changed -- her drummer had to leave, there was a relationship break-up, and Rossiter decided it was time to chuck in her day job, leave Auckland and see if she could be a full-time musician. She spent some time touring the country, lived on the West Coast of the South Island for a bit, then moved to Lyttelton, where she's now based.
It's been challenging at times, but you can hear just how influential and formative the experience has been on the new album.
"There's a fair few references to being on the road, and driving, and different places," she laughs. "I've always liked songs that seemed to be anchored in a space and time though."
You can hear how she's drawn to wintry, moody landscapes as well -- whether while travelling, or living in gothic-romantic-type isolation on the rugged Greymouth coast, reading writing and drinking whisky.
"I think the colder, more dramatic landscapes that you have through the South Island, the mountains and the fiords and the beaches, they're very emotionally evocative, you can't help but feel something.
"But I'm also drawn to run-down urban landscapes as well, so in the same way the rebuild of Christchurch is also an interesting thing to be around."
But the album hasn't been all about isolation -- there are guitars, bass, drums, and piano to be found on many tracks -- and she'll be bringing a band on her national tour this month.
"This new album has branched out in all of the directions that started on the first record. The quiet songs are even quieter and more fragile, but the loud songs are more brutal and more radical, so I'm very excited about it."
Who: Ivy Rossiter aka Luckless
What: New album Vindication Blues
Where and when: Performing at the Wine Cellar with her three-man band on Saturday night
- TimeOut