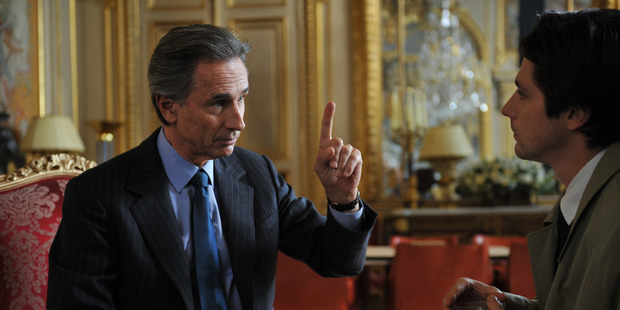 For English-speaking audiences, this French comedy could probably do with a glossary as well as subtitles; it helps to know that in France, a deputy is an MP, for example.
Its original title was Quai d'Orsay, after the Paris street where the Ministry for Foreign Affairs is located and which is, in Paris parlance, shorthand for the ministry itself, in the same way Whitehall means "the civil service".
The film started life as a best-selling graphic novel, whose writer worked as speechwriter to Dominique de Villepin when he was foreign minister.
But as a movie that pays homage to the American screwball comedies, even with the experienced hand of the prolific Tavernier on the tiller, it loses as much in translation as a subtitled Yes, Minister would in France.
This is despite an energetically motormouth performance in the title role by Lhermitte (Philippe Noiret's offsider in the bent-cop romp Les Ripoux almost 30 years ago and a popular casting choice for veteran farceur Francis Veber).
His Alexandre Taillard de Vorms is a man with too many opinions and too few ideas, who speaks in bullet points to Arthur Vlaminck (Personnaz), whom he has hired to be in charge of "la langage".
Almost every scene is set in ministry offices, where the soft-spoken and eerily unflappable Claude Maupas (Arestrup, cast against type and brilliant) presides over controlled chaos, including a crisis in the fictional Lousdemistan.
There's a very French touch to the physical comedy here, that wears rather thin. A running gag in which papers fly whenever the minister enters becomes annoying, but there's a brilliant disquisition on the importance to international affairs of the fluoro yellow highlighter.
In all, though, as the word count mounts, the laughs decline, and the ending, which references a real and stirring Villepin speech at the UN, seems out of place. It's an extremely polished, fast-paced farce but may be a petit peu too French for many tastes.

Cast: Thierry Lhermitte, Raphael Personnaz, Niels Arestrup
Director: Bertrand Tavernier
Running Time: 113 mins
Rating: M (offensive language) In French with English subtitles
Verdict: Political farce loses much in translation
- TimeOut