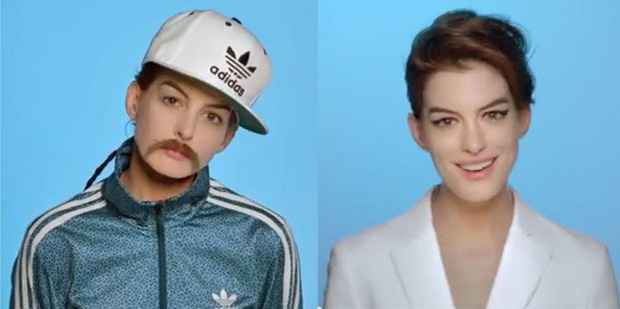 They may be two of Hollywood's most popular leading ladies, but Kristen Stewart and Anne Hathaway really know how to man up when it counts.
The Twilight actress, 24, and Oscar-winner, 31, are the stars of singer Jenny Lewis's new music video for her track, Just One Of The Guys.
Both actresses dress in drag for the clip, dancing around in tracksuits, wigs, caps and with mustaches stuck on their pretty faces.
Anne even sports a rather fetching rat's tail hairstyle, while Stewart rocks a Bieber-esque heavy fringed 'do under her backwards-facing cap.
At one point, Hathaway even busts out her best break-dancing moves, which, needless to say, aren't all that impressive but hilarious nonetheless.
The clip kicks off in a very ABBA-like manner, clearly inspired by the '80s.
Lewis stands front and centre on a white sound stage dressed in a crazy rainbow-coloured suit covered in stars as she strums away on her matching guitar.
She's surrounded by four barefoot women dressed in white suits playing instruments - including Stewart on the electric guitar, Hathaway on the keyboard guitar and fellow actress Brie Larson on the bass as another girl sits behind them on the drums.
The women start off looking chic and stylish with styled hairdos and nicely-applied make-up, before their big transformations occur.
All three sing along to the catchy tune, giving it their all and utilising their extensive acting experience when it comes to embodying their male versions.
Stewart in particular deserves a special mention, bringing an added swagger to her character unlike the others.
The actress appears to be having a ball embracing her inner dude, while even Hathaway seems to loosen up and let her hair down for a change.
Lewis also gets her chance to dress up as she plays her own questionable love interest, who appears to shirk his responsibilties when she finds out she's pregnant in the storyline.
The single is from the singer-songwriter's long-awaited album The Voyager - her first release in six years.
And it's safe to say that having such huge stars appear in the music video will give the release a huge boost.
As the women give their best tough-guy impersonations, fist bumping and shrugging as they pout angrily, the chorus kicks in.
"No matter how hard I try to be just one of the guys, there's a little something inside that won't let me," they sing in unison.
Watch the video for Just One Of The Guys below:
- Daily Mail