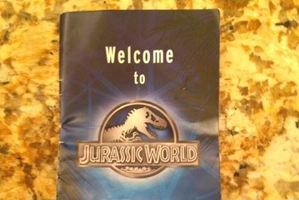 Nearly a year before the release of the fourth installment of the Jurassic Park series, fans have already got their first taste of the much anticipated film.
Leaked images from brochures used on the set of Jurassic World have found their way onto the internet.
As the movie takes place on a fictional island theme park, the graphic-filled pamphlets provide some insight to the film including a map of the island, attractions, and which dinosaurs habitate in the park.
The images from the pamphlet could be found on the Twitter accounts: @jurassicp2k15 and @jurassicparkiv.
The map shows the layout of Isla Nublar, which is the same island that provides the setting for the first film, complete with a key of attractions much like any other theme park.
One of the more interesting parts of the leaked brochure is the 'Creatures of Jurassic' list, which shows the dinosaurs fans should expect in the upcoming film.
Triceratops, Stegosaurus, Apatosaurus, Petranodon, and fan-favourite Tyrannosaurus Rex are all mentioned, but Velociraptors, who have played a key role in the franchise, are noticeably absent from the list.
The 'Park Highlights' section details the attractions of Jurassic World including the Gyrosphere which features an 'on-site instructional video prior to take-off with comedian/video host Jimmy Fallon.'
The pamphlet is also filled with adverts from various companies including American Airlines, FedEx, Samsung, Coca-Cola and Starbucks, so plenty of product placement should be expected when the action flick hits the big screen.
Jurassic Park World is currently being filmed in New Orleans with locations including an abandoned Six Flags theme park.
Guardians Of The Galaxy star Chris Pratt will play the male lead in Jurassic World opposite The Help actress Bryce Dallas Howard.
Young stars Nick Robinson and Ty Simpkins are slated to play kids visiting the park.
As the fourth installment of the franchise is set for release in June of 2015, it will be nearly 22 years after the original hit cinemas.
In 1993, Jurassic Park broke all kinds of box office records en route to becoming the highest-grossing film up until that time.
Steven Spielberg directed the original and serves as a producer on the fourth film. He also handpicked newcomer Colin Trevorrow to helm Jurassic World.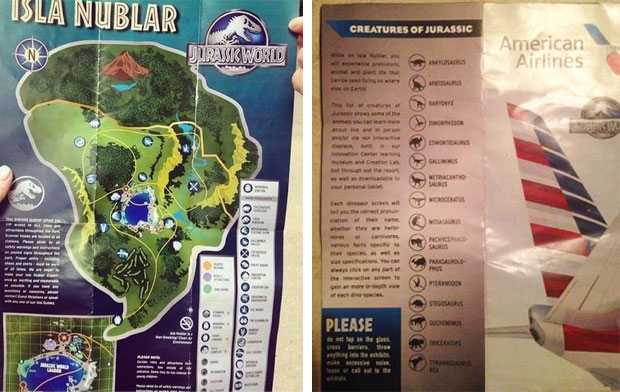 Inside the pamphlet is a big map of Isla Nubla and a list of dinosaurs. Photo / Twitter
- Daily Mail