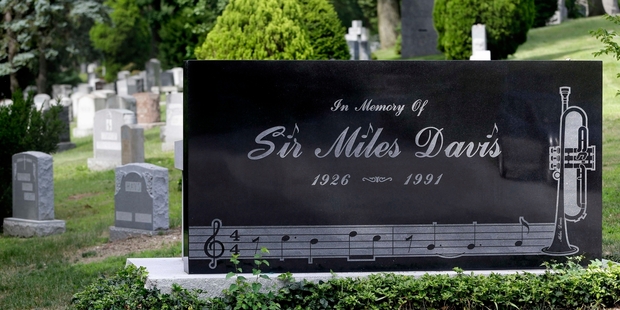 The guardians of Woodlawn Cemetery in the Bronx are reaching out to those who can think of nothing better than making their final resting place one shared by the likes of Miles Davis, Duke Ellington and Celia Cruz.
On its 150th birthday, the cemetery, a United States national landmark, is making quite the fanfare of the concentration amid its lawns and quiet avenues of deceased American jazz greats, some of whom arrived via the clubs of nearby Harlem.
Woodlawn, at the very end of the subway tracks at New York City's northern edge, already has a special appeal, its groves of grand trees and stately mausoleums a reflection of the elevated status of many already buried here. Pulitzer, Woolworth, Vanderbilt and Clark are among the notables with their names carved on to the plinths of granite piles.
The events in honour of the cemetery's birthday are in part a cultural celebration. In June, it hosted a first-ever, open-air jazz concert featuring trumpeter Wynton Marsalis, which drew nearly 2000 fans.
But it is also a marketing event, concedes executive director David Ison, who says that of the nearly 161ha Woodlawn occupies - half the size of Central Park - about 12ha are still up for grabs. And he has no doubt that some of those interested in buying space will be lovers of jazz who are anxious to spend eternity near to the legends they have loved in life.
Nearly all the 70 burial plots advertised for sale this year in "Jazz Corner" - right behind the shiny, granite gravestone of Miles Davis - have already been taken.
Across the road is a linden tree with two crosses on each side and a small parade of stones set in the grass overlaying the departed of the Ellington family, including Duke Ellington, 1899-1975.
Plots and other burial options at the site start at about US$6000 ($6800).