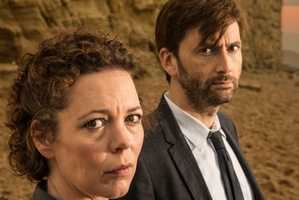 TV viewers in the UK and New Zealand were gripped by the mystery of who killed schoolboy Danny Latimer.
Now David Tennant and Olivia Colman have started filming the second series of Broadchurch in West Bay, Dorset.
The show's cast - which now includes film star Charlotte Rampling and Torchwood actress Eve Myles - are sworn to secrecy over the plot. And members of the public who stumble across the filming are being urged not to share photographs of the action on social media sites.
The Mail on Sunday has released some tantalising clues about what Broadchurch 2 might have in store when it airs next year
The paper said one thing was clear - the Latimer family are still struggling to cope with the loss of a son whose murder continues to cast a long shadow over the town and its residents.
And in dramatic scenes shot this week Detective Sergeant Ellie Miller, played by Colman, finds herself caught up in a bust-up at a taxi rank, as she remonstrates with two apparently drunk women.
The seafront at Weymouth had to be closed for several hours to accommodate filming.
That Beth is heavily pregnant implies the sequel picks up a few months after series one, in which she confided her pregnancy.
Mystery surrounds the role given to Charlotte Rampling who was filming in West Bay on Thursday.
The University of Exeter campus is being used as the location for a police station and courtroom. An ITV source last night described the trial sequences as 'integral' to the plot.
- Mail On Sunday