If you like your politics French and funny, try this, says Dominic Corry.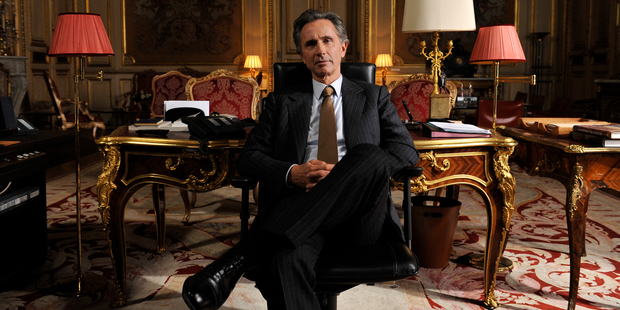 The French Minister is a new French comedy (in New Zealand cinemas July 17) that has drawn comparisons to The West Wing and In the Loop. But unlike those political satires, The French Minister is based on real events that were first chronicled in a graphic novel written pseudonymously by the French foreign minister's former speechwriter.
I recently had the chance to sit down in a Paris hotel room with both the film's lead actor, French comedy legend Thierry Lhermitte (The Dinner Game, The Closet), and its iconic director, Bertrand Tavernier, 73 years old and still going strong.
The French Minister follows Arthur Vlaminck (rising French star Raphael Personnaz), a green young graduate who joins the French Foreign Ministry - famously located in Paris on the Quai d'Orsay, which was the French title of the film - to write speeches for the eccentric Minister of Foreign Affairs, Alexandre Taillard de Worms, played by Lhermitte in graceful whirlwind of dexterity.
Although the actor was well aware of the actual events chronicled (with poetic license) in the film, Lhermitte first encountered the story told this way via the original graphic novel, an artform which enjoys a slightly wider appreciation in Europe.
"I was staying with some friends one Christmas, and the kids were reading it.
"I read it, I loved it.
"It didn't cross my mind that it could made into a film and that I would be asked to play the lead part!"
It was exactly those two notions that struck Tavernier when he encountered the graphic novel:
"I'd been trying to do a film about French politics, and I could never find a good angle.
Whenever I approached it, I found the reality was moving faster than me; or that I was doing something that could become preachy or didactic.
"With this graphic novel, there were none of those problems."
"I loved the fact that it was talking about something you never see in the newspapers or on TV - the people who work behind the scenes in government. I always like the people who are in the trenches more than the generals. [Rudyard] Kipling said 'Tell me the story of the foot soldier and I will tell you the story of every war'."
Both the leading man and the director agree that the line between comedy and drama is indeed a fine one, and that such a belief was key to the film.
"That's what I learned from [The Dinner Game director] Francis Veber," says Lhermitte. "You have to be in your own drama, whatever you play. So when it's written as a comedy, your drama is funny."
"The first thing Thierry and I agreed upon was that the character should not be played as if in a comedy," adds Tavernier.
"He has to play it straight with a lot of sincerity. Even when he makes the craziest statements or the most obscure declarations, the audience must really thing that he is believing what he is saying."
Indeed, Lhermitte's performance is something to behold. Rarely has such physical grace been applied to a bureaucratic character - he blows through every scene he's in like a Tasmanian Devil, spouting nonsensical aphorisms and sending his staff every which way.
His character is based on the real former French Minister of Foreign Affairs Dominique de Villepin.
Although the film's portrait is ultimately flattering, the character does come off quite buffoonish at times, which doesn't seem to have concerned Villepin much, according to Lhermitte.
"Oh yeah, he liked it a lot. He likes it when people are talking about him.
"I actually met him just by chance at a dinner 10 years ago, and in real life he's a very nice guy and not as crazy as my character. "
The French Minister opens in New Zealand on Thursday.