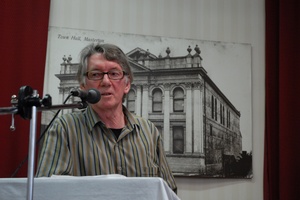 Legendary New Zealand music producer Peter Dawkins has died after a fall at his Australian home.
Dawkins, who produced 20 No. 1 hits including Dragon's April Sun In Cuba and Nature by The Fourmyula, passed away at his home in rural New South Wales on Friday, Australia media reports.
The 68-year-old had been suffering from Parkinson's disease after been diagnosed in the late 1980s.
Born in Timaru, Dawkins started out as a drummer, touring Europe in the mid-1960s with bands Me And The Others, and The New Nadir.
In London they jammed at The Speakeasy with Jimi Hendrix.
Dawkins returned home in late 1968 and moved behind the scenes, starting his production career with HMV Records, the NZ branch of EMI, where he produced a large number of recordings, scoring seven No. 1 pop hits including Nature, by The Fourmyula.
He moved to Australia in the early 1970s and became a house producer for EMI Australia and was at the forefront of the golden age of Australian rock music.
He produced 20 No. 1 hits and more than 50 albums that achieved chart success, with acts including Spectrum, Dragon, John Farnham, Australian Crawl, Mi-Sex, Pseudo Echo, Air Supply, Slim Dusty and Billy Thorpe.
After being diagnosed with Parkinson's, he went on to head Parkinson's NSW and was chairman of fundraising program Golden Turkey Roast.
Chairman of Sony Music Australia, Denis Handlin worked with Dawkins in the 1980s.
"He was one of the true great A&R pioneers," Handlin told The Sydney Morning Herald.
"I was honoured to work with him and inspired by his amazing natural instinct through his signings of Air Supply, Mi-Sex and Dragon, who all ended up on a world stage thanks to Peter's creative brilliance."
* Read Peter Dawkins' biography on Audioculture.
* Read Peter Dawkins' discography on Audioculture.
- APNZ