As Hopetoun Brown, Nick Atkinson and fellow Supergroover Tim Stewart are bring jazz to downtown Auckland among a wave of musicians taking it to the streets. Here, Nick writes about the joys - and the rules - of busking.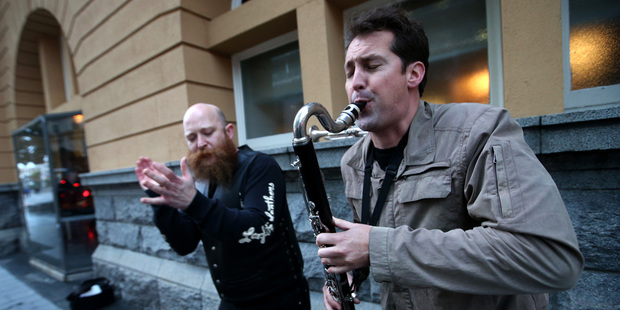 Last week I got my busker's licence.
This single sheet of paper comes with seven brilliant rules that could be applied to all live music, performed everywhere.
Here in Auckland you're not allowed to busk before filling out this form, yet this is exactly what a friend and I did recently.
My long-time compadre Tim Stewart sings and plays trumpet, my favourite instrument. He also performs feats of multitasking that include singing and playing tambourine at the same time. Something I can only dream of mastering.
Anyway, we're downtown playing jazz music on the pavement beneath dusky purple columns of sky that fill the space between stumpy high-rises.
The idling bus engines form a sort of post-modern ambience to our lonely blues notes. It's a shockingly bad place to do a gig.
We're here thanks to the enterprise and imagination of Hayden East, whom you may know from James Milne's Lawrence Arabia band.
East plays all manner of instruments, but his bass playing for Milne is outstanding.
Between gigs he's been encouraging some of Auckland's up-and-coming musicians to perform original music in and around our transport hubs at peak hour. Keep an eye out for singer-songwriter Anthonie Tonnon playing acoustically in the coming weeks.
Meanwhile we're on the footpath going through our parp and stomp routine. Several songs in, we see the five-O. They're security guards. There are two of them. One is a massive bouncer type. The other is the largest man I've ever seen. We stop playing mid-chorus and immediately assume we're being shut down.
After a slightly laborious, though faultlessly polite exchange the man-mountain asks us if we have a permit? We do not! Would you like one? Oh we would, we say smiling broadly at the fact we won't have to do it online. The smaller, but still enormous guard takes our drivers' licences and snaps a picture of us both.
Now we're feeling like stars. They even want our signatures, but before we continue we both get read the rules, which I think should apply to all gigs everywhere, especially numbers one and three.
• Performances must not exceed 60 minutes at any one location.
• Volume must not exceed background noise levels at 30m distance.
• Performers must have sufficient repertoire and not repeat songs during their 60-minute set.
• Performers must cease and move to another location if asked to by a nearby business.
• At least 2m of footpath width must be left unobstructed for pedestrians.
• No sale or receipt of donations is permitted for any goods other than CDs of the performer's original music.
• Performers must comply with the instructions of a council officer or police officer.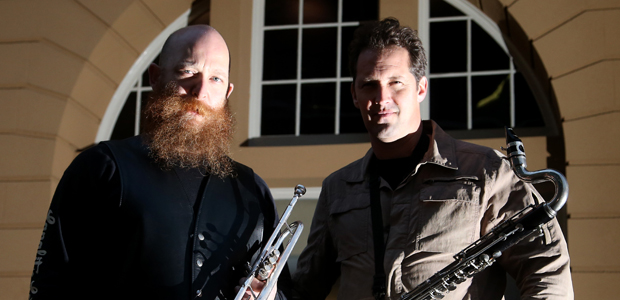 Freshly emboldened with our permits, we blare on into the gathering gloom and bus exhaust. A dreadlocked Argentinian ukulele player tried to join the band and a tourist festooned with countless zippers films a couple of tracks before our hour is up.
Performing on the street near an Auckland transport hub is a little like boot-camp for musicians accustomed to stages, microphones and spotlights.
Later in the week, Tim and I are both grinning after a set at the Portland Public House thanks to the muscle-tone we've built up wood-shedding on these downtown street corners.
The show never stops ...
Here's some indoor places to check out live music in the central city
• 1885 Basement: The Creative Jazz Club host live music in the moody, Mad Men-esque 1885 basement, in the heart of Britomart every Wednesday evening. The dark wood, deep leather couches, and classy cocktails are the perfect accompaniment for all types of jazz, from big band swing, to fusion, avant garde nights, and blues. The ensembles are both local and international, with visitors from Australia and Europe frequently on the bill, alongside top local acts.
• Cassette Nine: If you're old enough to remember Papa Jacks, you'll know exactly where this eclectic venue is tucked away, above the street, looking down on Vulcan Lane. They've been through various incarnations over the past few years, but there is consistently great indie-pop-dance-rock-singer-songwriter shows on a Friday and sometimes Saturday night, and also a strong selection of DJs who sometimes perform with live singers and musicians too.
• Q Theatre: Not just a theatre, the loft space at Auckland's newest and very tasteful entertainment complex often hosts all manner of live music. Looking down on Queen St (just above the Auckland Town Hall) through beautiful floor-to-ceiling windows, it can be configured for contemporary classical performances from the NZ Trio and NZ String Quartet, album releases from pop maestros, shindigs that encompass everything from sea shanties to bluegrass, and creative multisensory, multigenre, multimedia performances from acts like The Blackbird Ensemble.
Hopetoun Brown play at Leigh Sawmill this Sunday July 13, busk at Britomart on Monday, play at Portland Public House in Kingsland on Tuesday, and at Verona Cafe on K Rd on Wednesday. You can also hear Nick Atkinson hosting The Music Mix on Radio NZ on Thursday nights.
- TimeOut