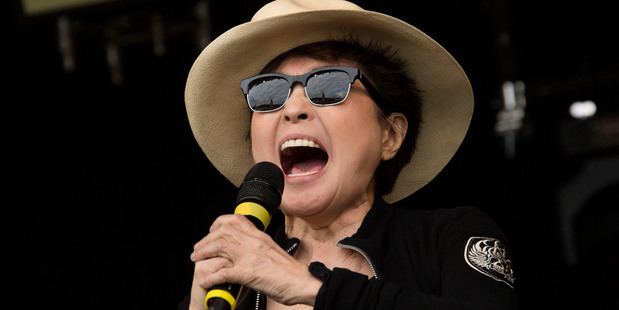 It's been a full week since the dust settled on this year's Glastonbury festival, but there's one performance that's still ringing in the ears of punters who were there.
That's courtesy of Yoko Ono, John Lennon's widow who performed what some are still calling, "The worst live performance of all time".
In a two-star review, Guardian reviewer Mark Beaumont called her set "impossible to take as seriously as she'd like".
"What follows is 40 minutes of experimental drum drone, bluesy riff rock, spoken word 'affirmations' and singing that resembles, in turn, mini orgasms, primal scream therapy and simian territorial fighting," he wrote.
The set sparked a Reddit thread called it, "One of the worst live performances you will ever see".
One user wrote: "That's the worst thing I've ever listened to."
But it was on Twitter where her set has continued to cause an outcry.
I want whatever Yoko Ono was on at Glastonbury.

— .esruoC nitsuJ (@JustinCourse) July 6, 2014
Why was Yoko Ono even playing Glastonbury? Just watched a bit of her set and it was like a piss take audition from X Factor.

— Kelvin (@kelvinjohnston_) July 4, 2014
Yoko Ono completely murdered the stage at Glastonbury (not in a good way): http://t.co/U2kNyLJL2S pic.twitter.com/q0rQgFQvHO

— SICK CHIRPSE (@SickChirpse) July 3, 2014
Yoko Ono at Glastonbury 2014.One of the worst live performances you will ever see. http://t.co/9d9bvjQETE

— svensson (@danielswesson) July 3, 2014
Yoko Ono performed at Glastonbury and it might be the worst performance I've ever seen. https://t.co/lQsSyZnne7

— Peter Ogburn (@peterogburn) July 3, 2014
The criticism didn't seem to affect Ono, who seemed to be enjoying herself and squawked uplifting phrases like "have courage" and "use your intuition" throughout her set.
She also used the event to chamption her crusade against fracking, tweeting this image from the festival:
Save @GlastoFest from #Fracking. Text FRACK to 60777 love, yoko pic.twitter.com/yLGO46InWv

— Yoko Ono (@yokoono) July 2, 2014
- nzherald.co.nz