The temperatures are falling and our thoughts are turning to all things warm - winter giveaways, crackling fire, mulled wine... and talent. Welcome to Spy's annual Winter Hot List.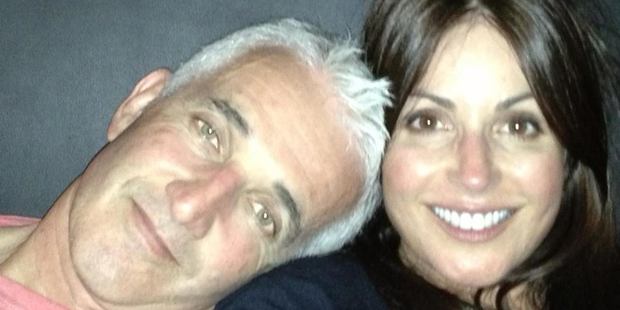 HOTTEST COUPLE
Speculation about this pair has been mounting for a year, but silver fox Rob Fyfe, 53, and former Top Model host Sara Tetro, 45 only recently went public with their relationship with cute pictures on social media of their recent holiday. How could they not be our hottest couple? Mix Fyfe's good looks and penchant for baring all with Tetro's pocket-rocket past as an Auckland cheerleader and the couple sizzle.
HOTTEST FILM STAR
Let's face it, who doesn't love Taika Waititi, 38? His director/actor success and infectious nature make him impossible to dislike. Wellington-based Waititi has been frequenting Auckland and has charmed the town during promos for new film What We Do in the Shadows. This is one more award he thoroughly deserves.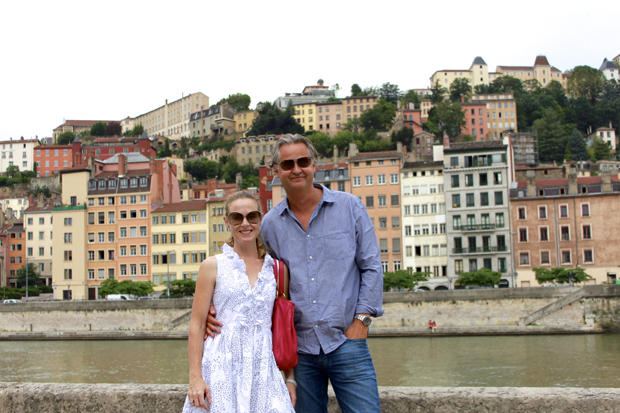 Rebecca Wright.
HOTTEST JOURNALIST
The Paul Henry Show's Rebecca Wright, 33, is hot, in a strangely sexy way. She plays Paul Henry's "Hitchcock blonde" roving reporter perfectly. Her Grace Kelly vowels are mixed with a hint of naughtiness, and she's not afraid to rough it. She won Spy over by diving off Henry's boat into the harbour with panache early this year. Wright has replaced the newly engaged Alison Pugh as the celebrity most men go to bed thinking about. In the first of two weeks of musical chairs on The Paul Henry Show, Wright won hands down.
HOTTEST HOSPO OWNER
Dana Johnston, 32, moved home from New York last year. Once famed for opening Britomart bars Racket and Agents and Merchants, he is re-establishing Parnell as a good-time destination. Most weeknights, the bar/bistro 46 & York he opened with his business partner
JP Schmidt attracts some of the hottest, richest, most famous
people on the Auckland circuit. Johnston and Schmidt are next month set to further brighten the eastern suburbs with a new venture in Meadowbank called Meadow.
HOTTEST RADIO PERSONALITY
There is that old saying about "having a face for radio", and in some cases you'd be right, but not for Aroha Harawira, 35. Hosting George FM Breakfast alongside Clarke Gayford, Harawira is not only vocally talented but gorgeous too!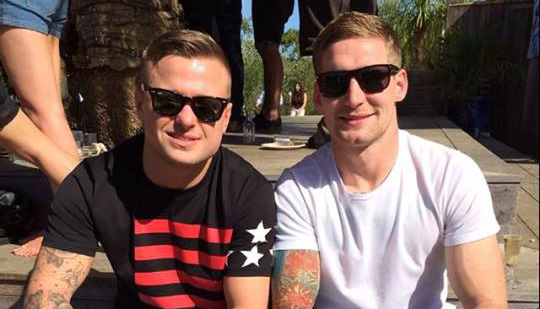 Sam Tomkins and Ben Spencer.
HOTTEST BROMANCE
Warriors import Sam Tomkins, 25, told Spy he brought best mate Ben Spencer down to help make the transition from England to New Zealand easier. The two have been best mates since they were knee-high to a grasshopper. They flat together in Auckland's eastern suburbs and, by all accounts, enjoy the Kiwi lifestyle.
HOTTEST SPORTSWOMAN
It's hard to concentrate on the game when Anita Punt, 26, is on the hockey field. Punt is regarded as one of the fastest players in the world, so it's no wonder she gets male hearts abeating. Her boyfriend is handsome decathlete Scott McLaren, and both have been confirmed for the Glasgow Commonwealth Games. In a recent blog, McLaren showed how hot he thought Punt was by pushing her off a bridge - to cool off, we guess.
HOTTEST SPORTSMAN
Blair Tuke is a 24-year-old Kiwi sailor taking the world by storm. He's an Olympic silver medallist gunning for gold at Rio, current 49er World Champ, and newest member of Team New Zealand. Tuke is one of four brothers from Kerikeri and is a proud Northland boy. When he's not travelling the world competing with his sailing partner Peter Burling, or in Auckland training with Team New Zealand, you'll find him spear-fishing, kiteboarding, surfing or mountain biking in Northland. And yes, he's single.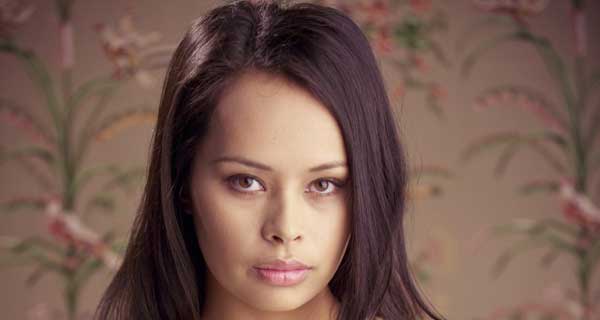 Frankie Adams.
HOTTEST TV GIRL
It seems lazy to pick the hottest TV girl from the same show, but Spy gives this award to Frankie Adams, 20, who plays Ula Levi on Shortland Street. The aspirational Rihanna prodigy has reinvented herself over the years and deserves the hottest girl on TV label.
MOST FASHIONABLE GIRL
Editor of The Denizen magazine, Claire Sullivan, 40, deserves this for her contributions to fashion through her magazine and her style. Her wardrobe reads like an A-Z of international designers.
HOTTEST GIRL ABOUT TOWN
Courtney Rupe, 23, has become a girl about town due to an occupational hazard. As the daughter of SPQR owner Chris Rupe, Courtney has made her mark as one of the gorgeous faces at social events and, of course, being the maitre d' at that favourite celebrity watering-hole.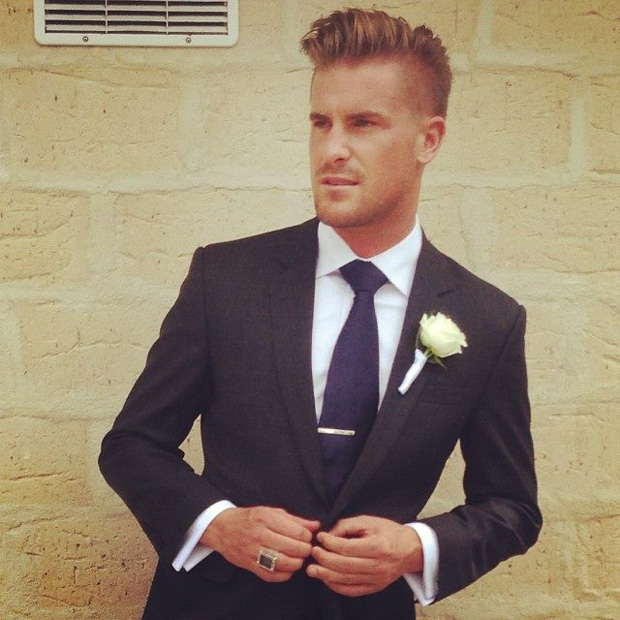 Joshie Olausen.
HOTTEST MAN ABOUT TOWN
Awarding Joshie Olausen, 27, this gong wasn't hard as he has been a long standing veteran of Auckland's social scene. Olausen has model looks and a body that would see him do well in Hollywood. As production manager of World, DJ and fashion stylist, Olausen has simply made a name for himself through his outgoing, charismatic nature.
Dalton's date night
It's been a stressful few weeks for Team New Zealand boss Grant Dalton. The multi-millionaire first copped flak for going cap in hand to the Government asking it to keep our yachties afloat, then his $2 million salary made front-page news.
So, last week it seemed some relaxation was in order. Just after it was confirmed Team NZ had raised enough cash to contest the next America's Cup, Spy spotted Dalton walking arm-in-arm with a young woman into inner city salon, Auckland Thai Massage, which specialises in all over body massages. The pair emerged about 45 minutes later but weren't keen to discuss their visit. Dalton politely refused to answer any questions.
They popped into a nearby restaurant to continue their outing in private.
Spy recently reported that Dalton and his wife Nicky have separated.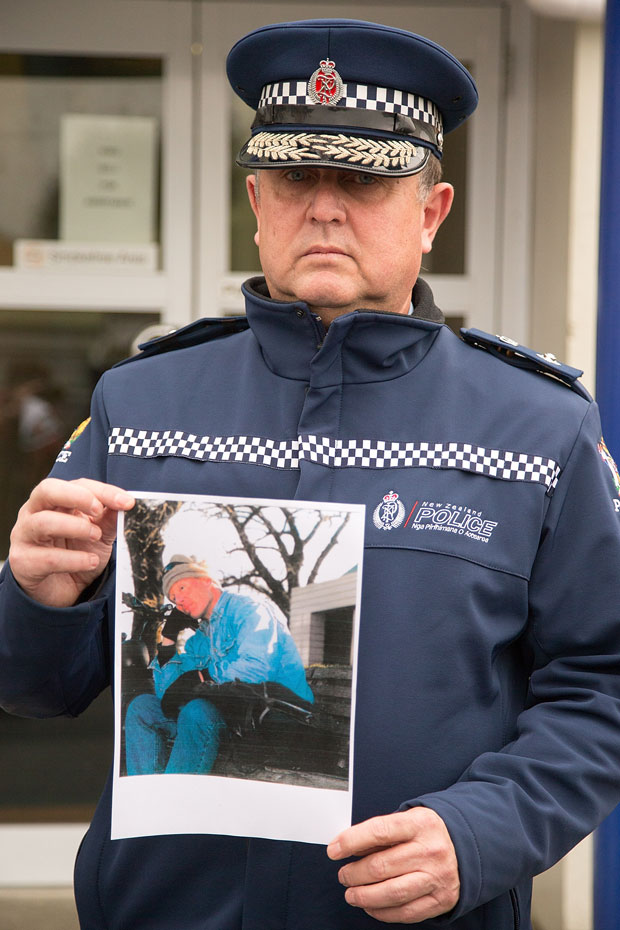 Rachel Hunter.
Rachel Hunter for breakfast
More than 20 years after our favourite supermodel Rachel Hunter delivered a poem lamenting the lack of Vogel's bread in her adopted home of LA, the supermodel is back spruiking the stuff.
She'll be at the Vogel's Toast of NZ cafe at No 1 Queen St on Tuesday, where she will choose her favourite from 12 new recipes created in a national competition.
After a whirlwind trip to Europe, Hunter is on her way home to LA via Auckland. She told Spy she was looking forward to the reunion with the iconic Kiwi brand.
"I am a big Vogel's fan so I am thrilled to be able to come home for the launch of the Vogel's Cafe.
"I can't get Vogel's that readily in LA, but when I do find it available, I stock up - it really is one of those tastes of home."
Rachel says her favourite Vogel's topping is Marmite and avocado, but she is looking forward to trying the cafe menu, which includes crazy creations such as ice cream, and pear and cambembert bake.
A platform of two cities
Wellington Mayor Celia Wade-Brown made the right turn in her mayoral welcome to the National Party Conference at the Michael Fowler Centre in Wellington last weekend.
A joke Wade-Brown made played out longer with media than John Key's new roading policy or Gerry Brownlee's "be afraid of the extreme left" warning. She told the room of blue rosettes about a trip last month to Singapore with Auckland Mayor Len Brown for the World Cities Conference.
She deadpanned: "I may have shared a platform with Mayor Brown, but I can assure you that is the only platform I shared."
Spy left a lovely message for Wade-Brown, congratulating her city for last week's great pop-up action in Auckland - The Capital at Silo Park - and asked if she would like to repeat her joke. Sadly, Wade-Brown did not want to cross the political divide once more.
Morrah's roadside rant
Handsome 3rd Degree journalist Michael Morrah had road rage when his Nissan 4WD broke down on the motorway off-ramp on Wednesday morning. Morrah was clearly embarrassed by the situation. Tweeting, "Yep, I broke down on a motorway off-ramp," and "no I didn't decide to park here."