Leading artists Michel Tuffery and Flox are collaborating on works inspired by Matariki. They are driving each other on, reports Linda Herrick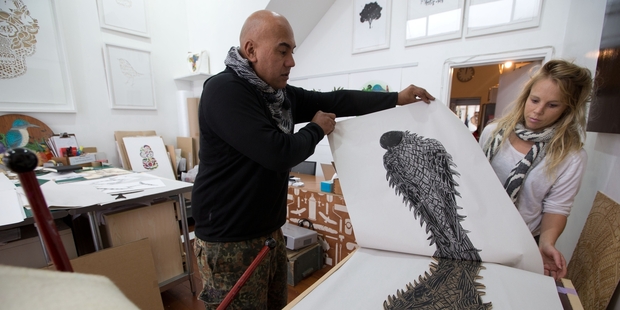 Michel Tuffery is brandishing a hair dryer. He's drying off a print of a kereru bird as he and project partner Flox run test proofs through the press of works they are producing for their N8VLaB (Native Lab) exhibition, which opens in Newmarket's Railway Street Studios today.
The show, based on their interpretations of Matariki, will transform the gallery into a heavenly vision of intricately stencilled aute (kites) floating from the ceiling, casting shadows on the walls, as well as highly detailed prints of the traditional foods of Matariki: the kereru (the now protected wood pigeon), the snapper and the eel.
Wellington-based Tuffery, one of New Zealand's most highly regarded multimedia artists, and Auckland-based Flox, renowned for her mastery of stencil, cutting and spray works, have worked together before, some years ago, in Wanaka's Festival of Colour. They have been beavering away on this show by long distance for the past three weeks, communicating via phone calls and emails, drawing over each other's drawings as they developed their ideas.
"We have a whole lot of series of drawings, working towards it," says Tuffery, who was awarded the Member of NZ Order of Merit in 2008. "The emails are even more fascinating with the PDF files. She'd send them to me and I tried to keep up with her. I could do only two and she'd be sending five, putting on this guilt trip," he laughs. "I'd get nervous about 4pm. I could see this file had arrived so I had to do a quick response overnight and email it back. I have to say I found it quite hard to keep up with her."
"You were my teacher," says Flox. "I was going, 'I've done my homework'."
"Just slow down please!" guffaws Tuffery.
The pair have borrowed a printer from ArtSight for this show. Both have printmaking backgrounds but the machines are "an expensive piece of equipment", says Flox.
"I did printmaking at high school and Unitec and I loved it. Stencilling has a lot of the same principles, the positive and negative. I have rolled with the whole stencilling thing and I still screenprint but I let go of anything to do with the press because I don't have a press."
Printmaking was Tuffery's major at arts school at Otago Polytechnic. "It was my worst subject but I was thinking long-term, that I wanted to take it on because I was useless at it. I like challenging myself and what we are doing here is challenging each other's space. I don't like easy things, I like to try new things."
"And I am so keen for that right now in my life, badly," adds Flox.
Tuffery says he didn't know much about Matariki when he was a kid, but Flox says the show is giving her the chance to put her own spin on it. "Finally, there's an opportunity for me to delve into that because, being a total whitey, you don't feel like you have the right to do that."
Tuffery peels away a layer of paper from the printer and asks Flox, "Are you nervous? Cos I am. Choice!"
"There is always the surprise element," says Flox. "Now we can look at this and analyse this and look at what we can do to improve or get another idea to move on."
The aute, created from paper, then MDF, then Perspex, will be "flying through the sky" at the gallery. Some are black, some white, and some will be Tuffery's favourite colour: hot pink. The show is augmented with works by guests Jeff Riwaka and Kereama Taepa.
"Kereama has these beautiful stormtrooper helmets and Jeff's paintings are connected to the kites so thematically the whole thing works together," says Tuffery. "We want to give the people who come to the gallery an experience. The work is inspired by what Matariki means to us, an exploration, you are educating yourself. We have the luxury of living in the South Pacific and drawing on whatever we want. Matariki is used for sailing, the celebration of planting in the gardens, for fishing, it is universal."
For now they are itching to get back to the press, to play around with colour and composition (Tuffery calls their compositions their "lollies"). "The process is that you discard and edit and you whittle it down to the path you want to take," explains Flox.
They have an easy partnership. Tuffery says he first met Flox when she was working in Wellington's Cuba St in the Cut Collective crew.
"I like her work ethic. She is a bit of a workhorse, that one. If you can handle that, you're away. At the end of the day [in Wellington] I can feel 4.30pm coming on and all of a sudden this email turns up saying, 'Open the file, for God's sake' and she's waiting for me to ring her back. 'Come on, what have you been doing?'. I like it."
Adds Flox: "I think what's quite nice is that the speed at which Tuff works is really quite suited to the speed at which I work. I find a lot of artists too slow. Obviously, we have a deadline here but I think we work at a similar pace, which is really nice. I think he's pretty quick. I can't handle working with slow people."