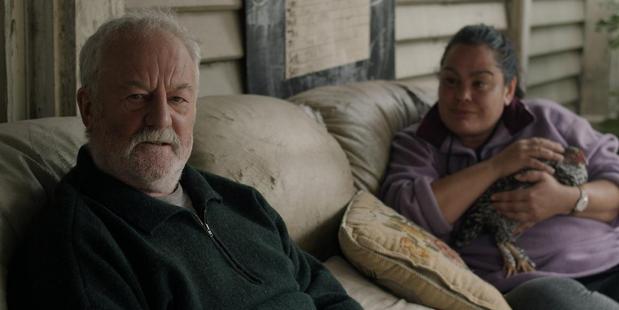 By the end of the first episode of Gaylene Preston's Hope and Wire (Thursdays, 8.30pm, TV3) the strands of the stories were coming together as lives fell apart.
This is a love letter to poor battered and shaken Christchurch, and a lament. It is not a documentary, although it uses many of the methods of documentary. There is real news footage woven through the fictional and, really, the entire undertaking is a sort of re-enactment - a device documentary makers are fond of and which you almost always wish they resisted, so jarring is the effect.
The difference here is that there is fiction too, but it rings true - and often is. And so, too, does the re-enactment of the lives of the characters. It's clever, and already compelling because you care about what's going to become of those characters. That's the hope part.
Not everyone is likeable or admirable and some are utterly rotten. Or are they? There is the slum landlord, Greggo, played by Joel Tobeck, whose first response to the devastation is one of concern for his properties.
Is he a thoroughly rotten egg? He later helps rescue a young man from a collapsed building and drives him and his sister, who has happened upon the rescue, to the hospital.
People can change, or be changed, is the message, perhaps. But it's not going to be as black and white as that, either.
The young man, Tim, was supposed to be at uni, where he is supposed to be studying law. He's working at a travel agency selling eco tours. His sister, Hayley, was supposed to be at her private school. She was at a clinic being checked for a STD, having previously had her first sexual encounter, at a party she wasn't supposed to be at.
At two hours, each of the three episodes is a bit of a stretch. There's only so much fear and mud and cracks in lives that you can take - but the point might be being made that if you live in Christchurch, all of this has gone on for a lot longer than two hours spent sitting on a couch in a warm living room in a house in which the doors and windows close.
And it does allow for the stories to be expanded on, and the lives of the characters interwoven, almost gently, in a way that doesn't make you feel manipulated into accepting the over-lapping of lives. And New Zealand is, after all, a small country and cities within in are smaller communities.
Home is the theme. It might mean a posh house in one of the leafier suburbs, or a "shithole" in one of the nastier ones.
The linchpins, and heart of the series, are the abundantly wonderful Len (Brit Bernard Hill, previously seen galloping across Canterbury in Lord of the Rings but closer here to his Yosser in Boys from the Blackstuff) and Joycie (the always marvellous Rachel House.)
They are old Lefties, down on their luck financially, but lucky in love with each other. They live in a flat in one of Greggo's dumps. They share the place with animal and human strays and, less happily, a trio of idiotic but frightening skinheads.
Joycie is an under-paid caregiver who looks after an old lady, Mrs Smith, whose family neglects her. After the big shock, Joycie trudges, through the wreckage and liquefaction, to deliver her groceries.
She finds the old lady in bed, wearing her pearls, drinking sherry from a bud vase - the glasses have all been smashed.
Mrs Smith is the grandmother of Tim and Hayley whose father, Jonty, is a lawyer up to some dodgy dealings. Mother Ginny is about to find that nobody in her nice, well-off, rather posh, very Christchurch family, was where they were supposed to be when the big one hit.
"Thirty seven seconds of shaking ... to jolt me from a life I trusted was solid to one I know was skating around on artifice and lies."
Houses and the lives lived in them are broken. Dwayne, a sort of harmless simpleton, who lives with Len and Joycie and assorted other lost souls at "The Free State of Muntville" - as Len deems the big falling-down house - says, of Len and Joycie's smashed-up flat: "It was a shithole anyway."
"It was my home, you nincompoop," says Joycie. Home.
"It's a place you feel safe and you put your stuff... [Where] you get to do what you like, with the people you love the best. Home."
Hope and Wire is a portrait of a big, life-changing event that is really about a small place called home - and it's terrific.