Real faults provide the drama in 'Sin'.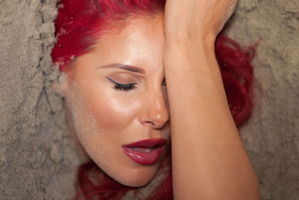 Whether you view the Seven Deadly Sins as fun things for your bucket list or Decrees of God, avoid at all cost Lust, Greed, Wrath, Envy, Pride, Sloth and Gluttony.
Parodied on The Simpsons and giving fire and brimstone preachers their best subject matter, these capital vices provoke as much art as fear, inspiring poets, painters and philosophers. Now New Zealand theatre company The Outfit is trying the seven on for size.
Using the experiences, thoughts and feelings of hundreds of New Zealanders, Sin explores this epic topic over seven days, with 15 Aucklanders on the "knife-edge of morality" as a tropical storm approaches. A bumpy ride ensues.
The characters "were conceived through anonymous online surveys and face-to-face interviews", says company and show director Sarah Graham.
"These brave individuals opened up and let us in on some of their deepest, darkest moments."
With a cast that includes Shortland Street's Chris Tempest and The Almighty Johnsons' Amanda Tito, Sin continues the company's tendency to explore contentious material, from sex, drug use and family dysfunction.
However, they promise the show will be "a celebration of sorts", shining a light on to "the private thoughts and experiences people have every day", says Graham.
"Although the deadly sins may seem dusty and a little overdone, there's a reason we're still talking about them," she says.
"They're universal. Just watch the news. Almost every news item relates in some way to one of the deadly sins. War, rape, tax fraud, politics, starving children, high petrol prices and America's Next Top Model."
Graham thinks sloth and gluttony are perhaps the most prevalent sins in the modern age.
Since test cricket and fast food restaurants remain active or proliferate, she has a point.
"We're always searching for the quickest and easiest way of getting what we want," she says. "We use technology as a way to connect and yet it leads to disconnect from the people right in front of you. I'm just as guilty as the next person of checking Facebook on my phone during a conversation for no apparent reason ... The only shocking part is that the experiences and stories in the play are inspired completely from reality."
Sin plays July 9-18 at Rangatira Q Theatre, Auckland.