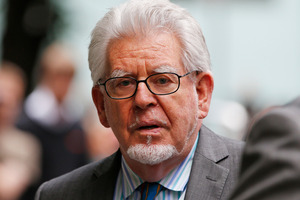 Rolf Harris' home town is moving to tear up monuments honouring the disgraced entertainer, while his boyhood school has already decided to pull down his paintings.
The 84-year-old was today found guilty of indecently assaulting four girls - one of whom was as young as seven or eight - in the UK between 1968 and 1986.
A West Australian Education Department spokeswoman told AAP that several Harris artworks would be removed from the walls of Perth Modern School, where he was a student from 1943 to 1947.
Read more:
• Judge warns Rolf Harris jail time likely after guilty verdict
• Rolf Harris attacked TV host 'during interview'
She said the paintings would need to be professionally removed over coming days and the school's board would meet to decide what to do with them.
Two local councils are considering what to do with monuments honouring "The Boy from Bassendean".
City of Perth Mayor Lisa Scaffidi said the council would likely tear up a footpath plaque on St Georges Terrace that commemorates Harris.
The decision would be made in coming weeks, Ms Scaffidi said.
"We'll consider the removal, most likely, of the plaque," she told Fairfax radio.
The council would first ask for the views of committee that selected him for a plaque, she said.
"I can't say until the council decision is made but the general feeling around the place is that we don't accept those kind of offences," Ms Scaffidi said.
"It's a very sad issue and something we need to deal with."
And the Town of Bassendean will consider at a special meeting on Thursday whether to remove Harris' status as a freeman of the town.
"I would be recommending to council that that takes place," Bassendean Mayor John Gangell told ABC radio.
"These are heinous crimes. All privileges should be stripped from Mr Harris.
"It is quite disheartening to have to do that but due to the seriousness of the crimes ... you just simply can't proceed in any other way.
"It's something that we must do now to distance ourself."
Harris is one of only six freemen of Bassendean, Mr Gangell said.
A photo portrait of Harris was removed from Bassendean's council chambers in May.
The council is yet to decide if his paintings will follow.
"My personal view would be to strip all association from the Town of Bassendean to Mr Harris," Mr Gangell said.
That includes a plaque at his boyhood homestead in Bassendean.
Mr Gangell said Harris had been "the hero of the town", so his conviction came as a shock.
"Unfortunately that world stage that he's put Bassendean on has now come crashing down.
"And we simply cannot tolerate the horrendous crimes for which he's been convicted."
Harris is likely to be jailed at his sentencing on Friday.
Meanwhile, Harris has been stripped of his British Academy of Film and Television Arts (BAFTA) fellowship.
BAFTA officials confirmed that they have annulled the honour he was presented with in 2012.
A statement from BAFTA reads: "The British Academy of Film and Television Arts has made the decision to annul the BAFTA Fellowship bestowed upon Rolf Harris in 2012 following his conviction."
He was handed the accolade for "outstanding and exceptional contribution to television".
The accolade came in the same year he helped mark Queen Elizabeth II's Diamond Jubilee at a star-studded concert in front of Buckingham Palace.
- AAP