British satirist John Oliver has become a counter-culture star with his show that pushes comedy's boundaries.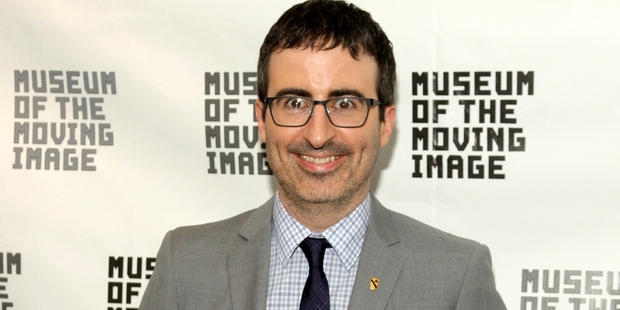 First it was former National Security Agency director General Keith Alexander. He was asked if he would favour renaming the intelligence agency Mr Tiggles.
Then came General Motors, criticised for endangering customers; then the idiocy of denying climate change; the death penalty; net neutrality (the principle that all data on the internet should be treated equally); Syrian dictator Bashar al-Assad's love of Right Said Fred's I'm Too Sexy; then it was a rant about Fifa, calling it "cartoonishly evil" and comparing it to a stomach-turning internet video clip, Two Girls One Cup.
It's only been two months since HBO unleashed Last Week Tonight with John Oliver and with each late evening edition the 37-year-old comedian, born in Birmingham, educated at Cambridge and who made his name on The Daily Show with Jon Stewart, has become more established as the star of television counter-culture.
Friends say he is a prankster, but he might be more than that: pundits are talking about a new, more calls-to-arms direction for United States political satire.
Two weeks ago, in an attempt to stir outrage over net neutrality - two words, he conceded, more boring than "featuring Sting" - he invited viewers to register their opposition to a two-speed internet, which would allow enhanced speed for certain users, with the Federal Communications Commission. The following morning the commission's website overloaded with traffic and crashed.
Oliver's remarkable success runs counter to recent trends.
After former tabloid editor Piers Morgan was fired from CNN, there were warnings US media were poisoned to British accents and supposed superciliousness.
But Oliver's self-deprecation is disarming and serves him well. Four million viewers tune in to the show every week and two million more watch online the next day.
"We didn't crash their website, Charlie - that's a huge accusation," Oliver told CBS host Charlie Rose after the commission edition.
"We merely pointed people to their website and told them why they should be angry about it, and they went in droves."
Oliver says it's a work in progress - the show's writers haven't settled on a format. But the basic idea is fixed: to take topics from the week's news and turn it into agitprop comedy that serves no agenda so much as laughter.
"It's not a surprise," says one TV executive familiar with the US late-night comedy business. "He's got a traditional Englishman's gift for telling Americans what to do and he's very good at it. He's lovable with a wonkish quality that lets him get away with some strident talk."
But for many, it is Oliver's willingness to push boundaries that is setting him apart from the political punditry class. "He's offering an explicit call to action that's unique," says Dannagal Young, who teaches satire and the psychology of political humour at Delaware University. "He's interacting with a topic, not just commenting or issuing a broad judgment."
Young says people on the political left have grown frustrated with satirists such as Stephen Colbert and Stewart who are adept at identifying problems but rarely cross over into agitation.
With a career path characterised by fortuitous timing, Oliver arrived at HBO after seven years at The Daily Show that included three months standing in for Stewart as host last northern summer.
"He learned at Stewart's knee," says the TV executive. "Oliver is a little bit more of a prankster than Jon - a prankster who is enjoying using his soapbox to steer his viewers toward mischief." Oliver's performance as host so impressed HBO bosses that they offered him a slot with none of the restrictions over content that typically come with TV. In 2013 Oliver said he does not consider what he does journalism or social criticism but something on the borderline.
Three weeks ago he broadcast a prolonged shot of male genitalia he said symbolised the Republican Senate minority leader, Mitch McConnell.
"HBO is the moral Wild West," Oliver said. Then he went after General Motors over its failure to report ignition problems in its cars that appear to be behind a dozen fatalities. "To do a very aggressive piece on [General Motors] before a congressional investigation, that's potentially a problem on commercial TV."
In a recent interview with the Hollywood Reporter, Oliver described himself as a child of former British Prime Minister Margaret Thatcher's era. "I think it's hard to be apathetic when you're raised under Margaret Thatcher; you're going to get pushed one way or the other," he said.
Oliver made his first appearance on American TV almost as soon as he arrived. "I remember my legs going a little bit wobbly, and then thinking, 'What the f*** are you doing? You're about to get found out in a big way."' That has not happened yet. He has settled in the US and married an American battlefield trauma surgeon.
"He's on to something, and people are going to want to get on that train," says Young. "I feel like he's going to become important."
TV profile
Who: John Oliver
What: Last Week Tonight with John Oliver
Where and when: SoHo, 10.15pm Tuesdays
- Observer