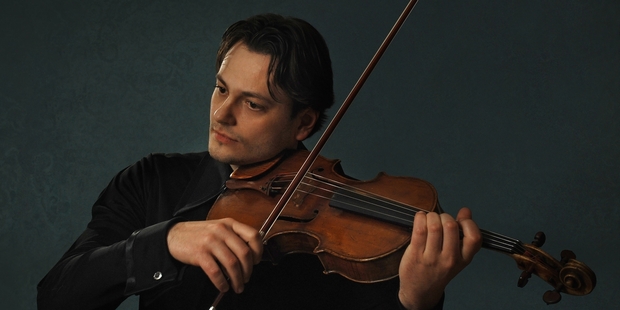 Even dogged by recalcitrant flu, Maxim Rysanov has a droll sense of humour. "I woke up this morning completely dead," the Ukrainian violist says over the phone, reeling out the terrifying concert schedule ahead until he plays with the Auckland Philharmonia Orchestra.
He remembers vividly his 2012 performance of the Schnittke Concerto with the APO and the reaction of the audience. Memories of a talk to the APO Friends on the morning after that concert are not forthcoming, but it was an immensely enjoyable affair. Rysanov spoke engagingly and was particularly witty on the subject of his instrument, even in an orchestral context.
"Being in the middle of the orchestra, the violas are the ones who hear everything much better," he told us, referring to his interest in conducting. "The violinists are too busy with their virtuoso parts and the cellists are too proud."
On a more personal level today, he extols his 1780 Guadagnini viola that we will hear in a few days time.
"It has a very beautiful tone, with a real Italian colour to its sound," he says. "There's also a perfect balance between a cello-like low register and a top register that's like a violin. It doesn't sound in-between."
On Thursday, Rysanov plays Tchaikovsky's Rococo Variations which proved such a success for him at the 2010 Last Night of the BBC Proms. Transcribing the piece from its original cello version was not "too difficult", as his instrument shares the same tuning an octave higher.
"It was just a matter of deciding which register one should work in to have the music come out at its best," he says. "Some of the variations, when played at the original pitch in the viola's middle register, sound better than they do on the cello, where it's high and can come across as rather tense."
Rysanov is a project-driven man. Two years ago he posted an invitation on YouTube, asking for pieces and arrangements that might fit into an eventual Homage to Schubert. He talks willingly about his role as conductor and organiser of String Paths, a 2011 ECM recording of the music of the Bulgarian composer Dobrinka Tabakova. This features high-powered soloists who include Janine Jansen and Torlief Thedeen alongside the Lithuanian Chamber Orchestra.
"Dobrinka's totally my discovery," Rysanov enthuses, "from many years ago when we studied at the Guildhall together. Back then she wrote several pieces for me and we've been close friends since."
The CD, ardently supported by ECM's Manfred Eicher, is a testament of faith and love. "The whole recording industry is so difficult at the moment because everything's falling apart," Rysanov says. "Nobody's buying anything - they just want to listen free on Spotify or YouTube. So there was absolutely no talk of money with our CD.
"All of Dobrinka's friends got together and we put a lot of love into it. I didn't expect it to get so many prizes, including a Grammy nomination, but that was pretty cool."
Rysanov is much less happy about the political unrest in his native Ukraine, which he grimly describes as "pretty chaotic".
Even though he has a Russian background, and moved to Moscow at the age of 11 for studies, he is appalled by the struggles of the Ukrainian people.
"If you switch on Russian TV and watch the news it's just unbelievable the lies that come out of it.
"Of course you've just got to be pro-Ukraine.
"New Zealanders are so lucky they live so far away from all this."

What: Auckland Philharmonia Orchestra
Where and when: Auckland Town Hall, Thursday at 7.30pm