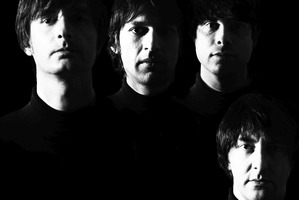 Australian tribute band The Fabulous Beatle Boys is in New Zealand to replicate the originals' 1964 performances in New Zealand song by song as well as playing some later tunes.

TimeOut talked to The Fabulous Beatle Boys' John (Christopher Lee Frazer) and George (Rod Auld) ahead of their 50th anniversary tour and started out by asking where do TFBB sit in the international league table of Beatles tribute bands?
J: Well we are playing the great game in two halves and statistical data would tend to have us running the ball more often to the pointy end. It can be hard on the knees but my wife is very understanding.
G: We aren't really concerned about the where's and what's re other groups. We respect them because we all share a passion. We just want to do the best show we can, give the audience something more than they expected and all have fun doing it.
Are the clothes custom made or do you buy them off the rack somewhere, presumably in the next aisle to Elvis jumpsuits?
We shop at beatgear (Liverpool) and beatlesuits.com (US)
Are those wigs?
J: I can't see what you're pointing at ...
Your guitars and amps and stuff - are they the genuine article?
J: you can't make great music with crap gear. Yoko has the originals but we play the same models they did and have quite the collection.
Is there pressure on the Paul of the group to smile more than the rest? And keep up a baby-faced appearance? And to play left-handed?
J: He was born on his left and he's still smiling about it, but his heart's in the right place.
Is there pressure on the John of the group to be slighty snarky?
J: Each moment gets what it deserves.
Is there any pressure on the George and Ringo of the group at all?
G: Yes, John and Paul.
What's the one Beatles song that is a lot harder to play than it might sounds to non-musicians? And why?
J: Love Me Do. All that harmonical sucking and blowing is bound to occasionally have you sucking instead of blowing.
What's the one Beatles song that you would rather not play every night but you have to? And, yes, why?
J: Tuning the guitar for the obvious. Oh, and Rock 'n' Roll Music. That song just goes on and on and on
What's the one Beatles song that never fails to make you think you've chosen the right job when you play it. And why?
J: We are talking about The Beatles here? It's every one in its own way with subtleties enough to keep you working on it for decades until you disappear smiling in a warm pool of purple goo. Even when The Beatles were over it they were on it. It's just about nailing it with the same abandon and adventure they did. It's about feeling it. And when you feel a Beatles song flowing through you uninhibited, you know. Except for Rock 'n' Roll Music.
For Beatles fans, being a Beatle most nights of the week must be dream come true. Is it?
J: We are all great friends on the road together playing the music that made us love music in the first place. Each night is an improvisation within the characters we love. We are as much entertaining ourselves as the fans. Can't think of anything better.
Lowdown
What: The Fabulous Beatle Boys
When and where: Auckland Town Hall, Friday June 27, 8pm