Coldplay played an intimate show in Sydney last week to mark the release of their downbeat new album. Russell Baillie was there.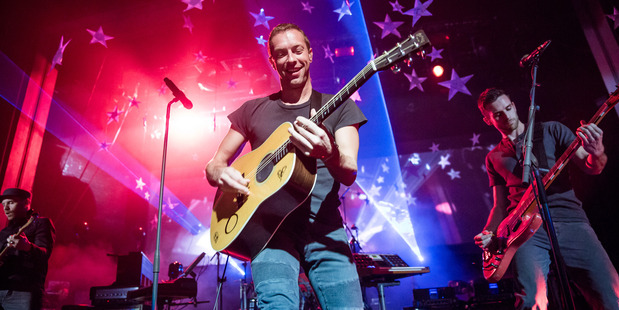 Checking into my Sydney hotel, the television is blaring out a familiar wonky rhythm. It's a tinny instrumental version of Viva La Vida, the Coldplay song that was the sort-of title song to the band's 2008's fourth album, a record that got them their ticket to the stadium-filling league - and into the muzak knock-off big time too.
Fancy that. They're just the band I've come to see.
Two albums later, in 2014, Coldplay are an even bigger deal. The last time they were in New Zealand, in late 2012, they played to 40,000 at Mt Smart. Not many bands with members born in the 1970s can do that.
Their latest album, Ghost Stories, has lodged itself at the top of the charts of most of the pop world, even if it's a record that is likely to give muzak pirates pause about turning its melodies into mall-friendly soundtracks.
It's a record supposedly inspired by frontman's Chris Martin's awkwardly titled - altogether now: "conscious uncoupling" - split with Gwyneth Paltrow, hence its ruminative tone.
Until, that is, its eight tracks hit the late-arriving EDM-powered infectiously trite Sky Full of Stars, a song that could be the hyperactive cousin to Viva.
On the album, it's as if some up-for-it Coldplay fan has wandered into the studio, heard the pretty, low-key songs like Magic and shouted at the band: "Play something we can dance to!" And they've complied, with a song that sounds like a collection of the best bits of a whole lot of other latter-period Coldplay songs.
A few hours later up the road, at the decidedly non-stadium Enmore Theatre in Newtown, a full-bodied version of Viva is shaking the rafters of the 1500-capacity deco venue. Drummer Will Champion has brought out his alternative drumkit of timpani, floor tom and bell for a good thumping nearer the front of the stage.
Martin, looking beefier these days than the stringbean frontman of old is bending himself into all sorts of shapes behind his acoustic guitar.
Bassist Guy Berryman and guitarist Jonny Buckland do what they do with their usual quiet enthusiasm, Berryman's four-string contributions sounding augmented by some deep synthesizer rumblings.
It sounds, well, stadium-sized and like the rest of the show comes with a stage festooned with video screens and hanging stars and laser lights.
Coldplay might be here to sell their often lovely new album with a one-off show Sydney for fans and media rather than turn this it into another global stadium trek but it seems they can't help but still go for the extravagant gestures that have been their musical lot for the past five or so years.
True, if they had just played all of Ghost Stories, track by track, then this would have been made for a long, slow night - and the radio broadcast and live streaming would have given plenty a pretty good facsimile of the album.
Photos: Coldplay performs at Sydney's Enmore Theatre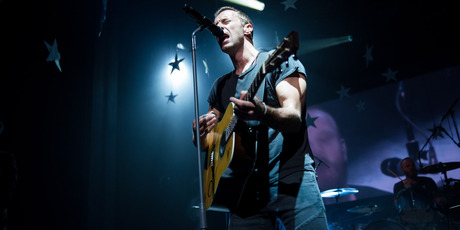 But if Ghost Stories is the band wanting to return to the intimate approach and personal tone of their early material in the studio, live it seems they are just the same old band fronted by the ever-ebullient Martin.
This might be their only public show in Australasia - the tickets having been snapped up in a few seconds - but they've certainly been doing the rounds in Sydney.
There's been a video shoot with Twitter-invited fan extras out on the streets of Newtown. They've played live on local breakfast television, on The Voice Australia (screening here tomorrow night), and a session for local pay TV network Foxtel.
There, Martin, who with the rest of the band has been quarantined from interview duties, reportedly offered the invited audience a few words about what was behind the new album.
"We haven't really told anyone about this album we made, called Ghost Stories," Martin said during that show.
"So just between you and me, I'll tell you a lot of it is about when you go through something a little difficult, and you understand that by staying with it you reach a place of love and happiness and come through better the other side."
At the Enmore the following night, Martin isn't offering anything as personal. Sauntering on to the looped choral intro music, Martin greets the faithful with a quick : "We're Coldplay and we're the best band in the world."
On some nights they may be. But not tonight. The first song, Ghost Stories' opening track Always in My Head can't escape the comparison that this band once billed as the next U2 can still sound an awful lot like U2.
From there it's a swerve between old anthems and new hymns - it goes from the woooah-oooooh excesses of Paradise to the soul-shaped Magic then back to the old piano arpeggio attack of Clocks.
Into the encore, Martin puts a spotlight on a familiar face in the front row of the mezzanine - it's drummer Champion's lookalike brother Ed, to whom Martin dedicates Oceans for encouraging his sibling into the band at a formative stage.
After Sky Full of Stars lights the fuse on the confetti cannons, it's guest star time.
Kylie Minogue, introduced by Martin as the "Queen of Australia", comes to do warble her Nick Cave murder ballad Wild Rose, though the effect here is more Peter Pan and Tinkerbell than psycho killer and victim. Minogue's own Can't Get Out of My Head finishes her cameo on a more life-affirming - if alarmingly sugary - note.
To finish, Coldplay deliver Fix You, a more stirring song than anything that has preceded it. That's the one the fans are humming as they leave.
Across the ditch
Coldplay's show at the relatively tiny but lovely Enmore Theatre in Sydney last week was more promotional gig than world tour. So New Zealand fans shouldn't feel too miffed that the English band aren't heading across the Tasman.
Still, there are a bunch of major music acts hitting Australia in the coming months who won't be heading over here ...
Lady Gaga:
She came to Auckland in 2010 but the outlandish New York star isn't bringing her artRave: The ARTPOP Ball show across the ditch. Instead she has seven August shows stretched across Perth, Sydney, Brisbane and Melbourne, where venues will be fitted out with staging allowing fans to dance under the runways. If you want a meet and greet that will cost you a cool A$1499 ($1621), and there are various other premium ticket packages should you really want to go Gaga.
Kanye West:
He's played New Zealand three times - the first was at Auckland's St James Theatre in 2006 when he was booked as a U2 support act and the headliner postponed. Despite having earned himself a Kiwi fanbase big enough to play at Auckland's Vector Arena in 2008, the celebrity king of hip-hop isn't touching down in New Zealand on his Yeezus tour. Kanye is playing seven dates in Australia in September. Early shows on his global jaunt having been described by reviewers as "an extravaganza of music and theatre" and "an unmissable spectacle". No word on whether the props include a giant inflatable ego though.
Queen and Adam Lambert:
Well no, it won't be quite the same without Freddie Mercury but it will surely be better than one of those Queen tribute acts with a singer all moustached-up to look like the band's extravagant late frontman. American Idol break-out star Lambert certainly has heck of a voice and to see him plough through the likes of Somebody to Love with original guitarist Brian May and drummer Roger Taylor should be fan heaven for followers of the band who wouldn't die.
Miley Cyrus, Lilly Allen, Courtney Love:
If you want to see any of these very nice women sing their pleasant pop tunes this year, then it's over the Tasman you go. Ms Cyrus is twerking her way across Australia in October. Ms Allen is playing a sideshow in Sydney to her Splendour in the Grass festival appearance in July. And Ms Love is doing a five-date solo tour in August, including one at the aforementioned Enmore Theatre.
- TimeOut