Networks in search of the next big hit are turning to vampires, zombies, exorcists — and a possessed preacher.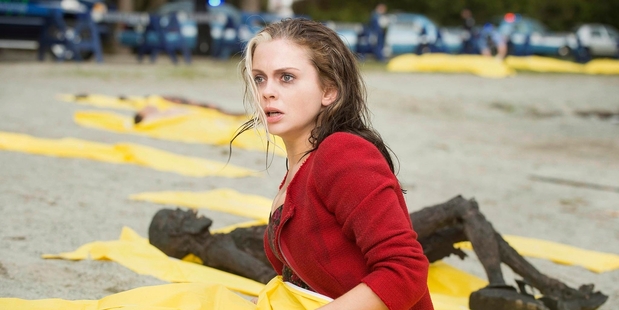 A chain-smoking exorcist with a nice line in sardonic putdowns; a zombie medical student who needs brains to survive; an itinerant preacher who speaks the word of God and is on a mission to hold the Almighty to account. They might sound like bad jokes, but expect to see all three characters on TV screens soon as executives plunder cult comic books in search of the next big hit.
The straightforward superhero show is doing solid business on the small screen - Arrow has been a global hit while Agents of Shield did enough to ensure the production of a spin-off, Agent Carter, starring Hayley Atwell reprising her role from the first Captain America film.
So commissioning editors have decided to take some risks.
Thus The Strain, an adaptation of horror king Guillermo del Toro's vampire novel and comic book series, directed by the man himself, starts on US television next month, while September sees the arrival of Gotham, in which a young Jim Gordon takes his first steps on the long road to becoming commissioner, meeting early versions of the Penguin, Poison Ivy and Bruce Wayne along the way.
Early reviews suggest a dark, compelling crime drama.
Both shows are expected on New Zealand screens this year.
Also hoping to stand out is iZombie, a new take on a popular comic book about a reluctant young zombie played by Kiwi actress Rose McIver. TV executives have turned to Veronica Mars creator Rob Thomas, who admitted taking some liberties.
"We're not sticking that close to the comics," Thomas said in an interview with the website IGN last month.
"They want something in the vein of Veronica Mars or Buffy ... not a zombie apocalypse show [but] a fun, cool, smart, funny single-female lead who happens to be a zombie."
Meanwhile NBC, riding high as America's number one network after years of struggle, has commissioned a series based on comic book classic Hellblazer, which tells the story of John Constantine, a British exorcist.
Created by Alan Moore (although the Hellblazer series was written by Jamie Delano), Constantine was last glimpsed in a 2005 Keanu Reeves movie of that title in which our counter-culture hero appeared bored rather than cynically disillusioned.
"Will the new attempt prove better?"
An extended trailer suggests that director Neil Marshall and writers David S. Goyer and David Cerone have managed to capture the anarchic spirit of the original, while British actor Matt Ryan is enjoying himself as the sharp-tongued Constantine.
"Constantine looks great, and the comics are fantastic, so I have high hopes," says Charlie Jane Anders, managing editor of science and science fiction site io9.
No show will test wary viewers more than AMC's planned adaptation of Northern Irish writer Garth Ennis' cult comic book series Preacher.
Considered unfilmable and previously linked to everyone from Kevin Smith and Sam Mendes to HBO, Ennis' books tell the dark, profane and very funny tale of Jesse Custer (yes, the initials are important), a Texan preacher who has been possessed by a supernatural being named Genesis, his ex-girlfriend Tulip, an assassin, his close friend Cassidy, a hard-drinking Irish vampire, and their quest to find an absentee God.
AMC has commissioned Seth Rogen and Evan Goldberg to write a pilot, with Breaking Bad's Sam Catlin overseeing the series.
For Anders, the key to the new shows' success will depend on whether they capture the originals' anarchic spirit without alienating mainstream viewers.
- Observer