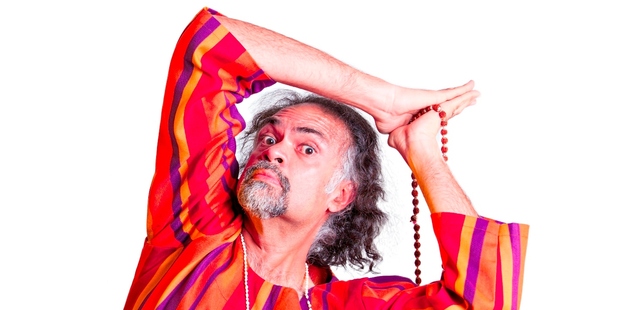 Indian actor Mustaq Missouri has performed in plays from Shakespeare to Noel Coward, but it was not until he moved to Auckland that he discovered traditional Indian theatre. His is a story which highlights how immigration and globalism are shrinking the world as we know it -- and shows the diversity of Auckland's performing arts scene.
Missouri, also an English-language teacher, was born and raised in Singapore, the great-grandson of Indian immigrants. He developed a liking in his teens for European absurdist theatre before attending university in Australia and eventually moving to Shanghai, where he joined a British ex-pat theatre company and performed in plays by Shakespeare, Ibsen, Beckett, Brecht, Coward and Wilde.
But it wasn't until he came to Auckland in March, with his Kiwi wife, that Missouri discovered Indian theatre traditions through the New Zealand group Prayas. The 46-year-old has one of the lead roles in Charandas Chor -- The Honest Thief, a classic Indian folk tale adapted for the stage by acclaimed Indian playwright Habib Tanvir.
"This is my first experience with Indian theatre, so it's a bit ironic that I have come all the way to Auckland to return to my roots," says Missouri. "Growing up, I never felt of myself as particularly Indian nor did I feel very connected to my Indian-ness -- if you want to put it that way -- but as you get older, you want to explore your identity more. Being part of this production and Prayas has made that desire stronger."
Charandas Chor, with a cast of 26 and a live band, is being staged for the third time in Auckland by Prayas. Charandas was the company's debut production in 2005 and was brought back by popular demand a year later. Since its debut, Prayas has grown the scale of its productions and the sizes of its audiences. Now, eight years later, the company wants to build on what it learned during those earlier seasons and make Charandas Chor bigger, brighter and better. They like to joke that India's most wanted crook has escaped to Auckland because it's a story about Charandas the Chor -- or thief -- who lives by openly flouting the law. Like other folk characters of this ilk (think Robin Hood), he is a man of principle -- an "honest thief" -- who has a strong sense of integrity. Through his acts, the double standards of supposedly reputable religious, political and class-based institutions are exposed.
The play has comedy and tragedy, chase scenes and musical numbers. Missouri plays the thief's guru, a larger-than-life swami-type character who is always quick to remind his followers of how much they owe him for his good advice.
Missouri originally arrived at Tapac to audition for another production -- a one-night performance of The Rocky Horror Picture Show -- when he saw a flyer advertising the Prayas auditions two hours after his Rocky Horror try-out. Charandas Chor director Margaret Mary Hollins says she and co-director Ahi Karunaharan knew almost as soon as they saw Missouri that he would play the guru. "We were doing workshop style auditions and he was in a group doing some work outside on a breezy day and the wind blew his hair up so it looked crazy and I just said, 'that's him; that's our guru', says Hollins.
As a teenager growing up in Singapore, Missouri and his friends started a theatre company dedicated to performing plays by European writers such as Eugene Ionesco, Georg Buckner and Britain's Joe Orton. "It was a way for us to comment on what we saw going on around us without upsetting the authorities who controlled what could be performed," says Missouri. "They had no idea of the subversive nature of these plays; I remember performing one in a library and the authorities thought it was a children's play."
Theatre took a back seat as he studied and established himself as a teacher, until he moved to Shanghai and stumbled across a community theatre group.
Missouri became one of the group's stalwarts, performing in everything from Noel Coward to Bertolt Brecht. Though Charandas Chor is the first Indian play he has performed in, Missouri says he can draw upon experience garnered through the characters he has portrayed. "Guru is a fun character; a big character. The character I've played that he would be the closest to would probably be Sir Toby Belch in Twelfth Night.
"I believe if you can perform absurdist theatre and Shakespeare, you learn the skills to be able to play anything. You have to be able to completely forget yourself."
What: Charandas Chor -- The Honest Thief
Where and when: Tapac, Western Springs, June 25-29