NZ On Screen Content Director Irene Gardiner takes a look back at some classic screen vampires to come out of NZ.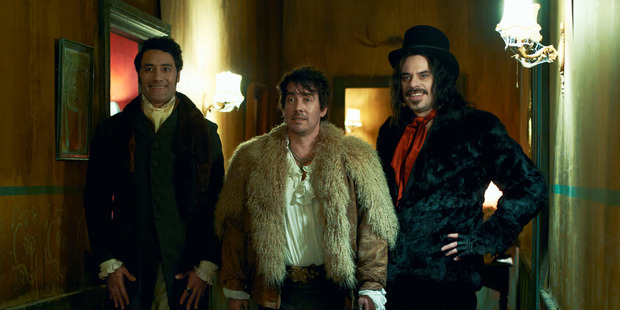 Taika Waititi and Jemaine Clement's new film What We Do in the Shadows opened in New Zealand cinemas yesterday. The feature-length mockumentary, about a group of vampires flatting together in modern day Wellington, has won praise at the Sundance Film Festival, and rave reviews here at home.
View the trailer for What We Do in the Shadows below:
But the What We Do in the Shadows gang are not New Zealand's first screen vampires. Until their arrival on the scene, our most loved Kiwi vampire was television's Count Homogenized, who scared and charmed a nation of 1980s kids.
Played by actor Russell Smith, the Count sported a white afro and cape and had an insatiable lust for, not blood, but milk.
Count Homogenized began his life in a late 1970s children's series called A Haunting We Will Go.
NZ On Screen has both the original pilot episode of the series, and its official episode one.


Three years later, the Count had become the break-out star of A Haunting We Will Go and was deemed worthy of his own series - It is I Count Homogenized.
Check out episode one here:

In the early 1990s, New Zealand horror film director David Blyth (Angel Mine, Death Warmed Up) moved into the world of vampires, with the (for Blyth) surprisingly family friendly Grampire, starring American actor Al Lewis (Grandpa on The Munsters). Released in 1992, the film was called Moonrise internationally.
You can see excerpts here:
Pre-dating What We Do in the Shadows by eight years, was another NZ vampire movie that attracted some international interest. Writer/director Glenn Standring's second feature Perfect Creature was released in 2006, and starred Hollywood imports Dougray Scott and Saffron Burrows.
You can see the trailer and an excerpt from the film here:
Funnily enough, the other screen vampire hiding out on NZ On Screen is also played by Taika Waititi. His name is Diego, he is 200 years old, and he makes a couple of fleeting appearances in this profile of Waititi from a 2004 episode of the TV arts series The Living Room. Diego is one of the comic characters in a live comedy show Waititi is performing at the time. Check out part one of the programme for the Waititi piece - it's a fascinating look at where this talented filmmaker and performer was heading. His potential was pretty obvious even 10 years ago.
Watch here: