Promoter of Rotorua's Raggamuffin eyes shift to Auckland, where most fans come from.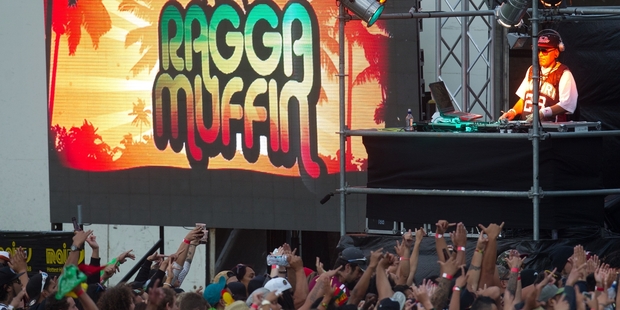 Auckland could be on the verge of inheriting the Raggamuffin reggae music festival from Rotorua.
With most of the festival's punters streaming south each year from Auckland, the Raggamuffin director wants to break camp and head for the larger city.
Andrew McManus, founder of McManus Entertainment, said he lost more than $1 million on the concert this year.
The number of Rotorua locals buying tickets at the gate had dropped from 17 per cent to 0.7 per cent, and about 70 per cent of festival-goers had come from Auckland, he said.
International acts Lauryn Hill, Ali Campbell's UB40, Mary J Blige, Shaggy and Damien Marley have all played the festival in recent years. Raggamuffin has injected millions of dollars into the Rotorua economy since it began in 2008.
But a poor turnout this year and a lack of support from locals meant a move north made financial sense, Mr McManus said.
For the event to be shifted, however, the Rotorua District Council would have to release McManus Entertainment from staging its festival there in 2015 - the last of a five-year contract.
On Tuesday, a council meeting agreed to consider releasing the promoter from the contract, but any decision would be subject to the completion of his obligations relating to Raggamuffin 2014, which took place on January 31 and February 1.
The council would not say what those promoter obligations were, because they were part of a contractual agreement and were commercially sensitive.
"It's very sad for Rotorua. But there's nothing I can do. Locals were not supporting me," Mr McManus said.
It's estimated the event injected between $3.5 million and $9.3 million into the Rotorua economy each year.
It has attracted about 145,000 fans over the past seven years, with the first Raggamuffin in 2008 setting a record 32,000 attendance.
An Auckland Tourism, Events and Economic Development spokesman said the festival would be considered for the Auckland market.
"We're not about taking events from other cities, but if an event promoter approaches us with an application, then obviously we'll look at it."
Rotorua council economic and regulatory services group manager Mark Rawson said music festivals like Raggamuffin would inevitably come to an end of their natural life cycle at some point as changing music trends, economic conditions and other factors came into play.
"If Raggamuffin doesn't go ahead here in 2015, the challenge will be to secure something fresh that captures the attention of music fans and brings out-of-towners into our city."
- Rotorua Daily Post, NZ Herald