Presenter Darren McMullen won over by Wellington's charms.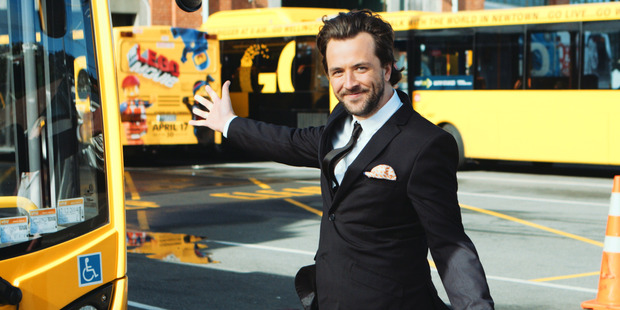 Glaswegian-born Darren McMullen, an Australian TV star, is the surprising choice to front a new online advertising campaign by Positively Wellington Tourism, which was launched yesterday.
The 32-year-old host of The Voice admits even he was surprised to get the call. "When it first came through, it was like 'hold on, you want a Scottish guy to do tourism in New Zealand, for Australians?'"
The Wellington tourism bureau says they couldn't have picked a better candidate to front the tongue-in-cheek social media campaign aimed at upwardly mobile younger Australians.
For starters, they had to dispel simple misconceptions Aussies have about our capital city, including how long the flight is.
"It is so quick ... three hours. Can't even bust out a Lord of the Rings movie in that time,'' McMullen jokes on the YouTube video.
The campaign, called "Wellington Has Things", films McMullen amusingly traipsing around the capital plugging the city as a major metropolis within close flying distance.
Positively Wellington Tourism chief executive David Perk says the film was designed to highlight the proximity to major cities in Australia.
"Wellington prides itself on doing things a little differently and we wanted to buck the trend of traditional tourism films by adding a touch of fun," Perk said. "Darren's sense of humour was a perfect fit - he really got what Wellington is about and we're thrilled with the end result."
Australian TV personality Paul Mercurio is an added bonus. He makes a guest cameo role and a rep for Positively Wellington says it was pure luck getting the two together.
"The Australian High Commissioner alerted us to the fact Paul was in town looking at craft beers for his food show and we thought, how can we incorporate him too?
"Holy Pasodoble, it's Paul Mercurio," McMullen says on the film. "What are you doing here? Shooting another dance movie? ... Strictly Balding?"
The tourism movie, which is expected to be a viral hit, has already won over its supporting star attraction - McMullen.
The 32-year-old, who is dating American actress Crystal Reed, says despite being paid for the job, he has fallen in love with the city and wants to share it with his girlfriend.
"We're going to go back hopefully when she comes over," Darren told Sydney's Daily Telegraph yesterday. "We are really foodie and coffee snobs, Crystal and I, and Wellington is amazing for that ... when we get a long weekend we'll pop over."
Wright timing is everything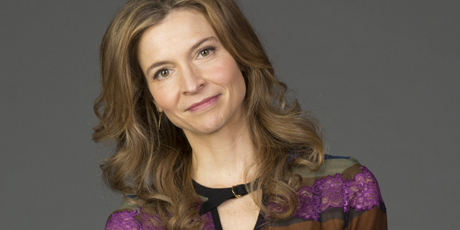 Tandi Wright is cherishing her big US break.
She was a star of Kiwi drama Nothing Trivial, which was axed, but 44-year-old actress Tandi Wright has quickly landed on her thespie feet with an exciting new role in an American television series. And she tells The Diary the move has been so fast she has barely had time to appreciate her luck.
Wright is on location in Canada shooting the 10-part American supernatural TV drama Returned for the A+E cable network, a US remake of the French series Les Revenants.
"It's been a wonderful whirlwind so far. I was cast on Friday [June 6] and was on a plane to Vancouver on Sunday," Wright says on set. "I nearly got whiplash!
"The shoot got pulled forward so everyone is chasing their tails. But I'm having a great time.
"The moment I got here I was into hair, costume, makeup, camera tests. We had a cast read-through with a video hook-up to network and studio execs in New York and Los Angeles. It was both exhilarating and terrifying."
Wright plays Claire, a small town mother whose life is turned upside down when several local people who have been long presumed dead suddenly reappear.
It's a big break for the Kiwi mum. She spent a lot of time at casting auditions and meetings, but her agent, Imogen Johnson, says Wright is not the only New Zealander making waves in the US television industry.
"This is the second big US series for Johnson & Laird [Auckland talent agency] this year, with Rose McIver cast in iZombie, and more and more actors getting American work direct from New Zealand now. It's a very exciting time for Kiwis, there's no longer that real barrier to entry."
Wright, aware of her age in the fickle Hollywood industry, says she's grateful to be a working actress and to be given such a plum role.
"The job is for four months, it'll go by in a flash. I keep pinching myself to check I'm not dreaming. I'm just really chuffed and thrilled.
"I have raced up here with a moment's notice, and my wonderful husband [Michael Beran] and daughter [Olive] will follow in a couple of weeks when I have found us a place to stay.
"We'll turn it into a family adventure for all of us."
Lorde award

Lorde has picked up another award. Photo / AP
Teen queens Lorde and Kendall and Kylie Jenner took to the stage at the MuchMusic Video Awards in Toronto on Monday where the Kiwi pop star accepted the gong for Best Pantsuit Most Envied by Hillary Clinton. Actually, she won the award for best international video artist and gave a trippy onstage performance where she literally tripped over a standard lamp. Apparently it was part of the act.
Baby brews up a storm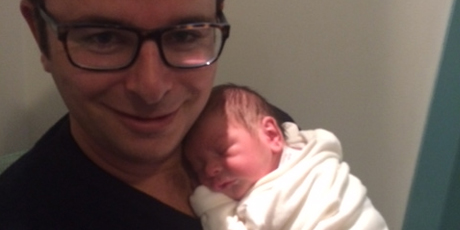 Cameron Brewer welcomes a son.
Councillor Cameron Brewer's wife Kate gave birth to a baby boy during the peak of last week's bad weather, prompting some to suggest the newborn be named Storm.
However, the proud parents have christened him William Patrick Brewer and, although he was born a little early, mother and baby are doing well. Brewer, who wed his wife in Fiji less than 11 months ago, gloats he now has his own "Kate and Wills". He is also the proud father of 9-year-old Lucy from a previous relationship.