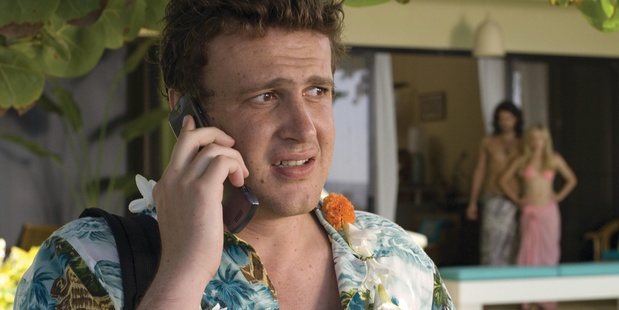 It was the movie that gave him his first big break, but Jason Segel has revealed his mother cried when she saw 2008's Forgetting Sarah Marshall.
The 34-year-old's matriarch, Jillian Jordan, was devastated by her son's full-frontal nudity scene in a scene from the movie, which co-starred Kristen Bell and Russell Brand.
However, The Muppets star told Vanity Fair that her shock and dismay was partly because she didn't see it coming.
"She cried," he told the magazine.
Jordan then went on to send out an email to friends and family, warning them about the scene.
"I would like to inform you all that Jason has chosen to do full-frontal nudity," she wrote.
"However, it is not gratuitous and is essential to the plot."
Presumably his mother will be more prepared when she first watches his new movie, Sex Tape, co-starring Cameron Diaz.
"To do something like this has the potential to be very awkward," Segel told the New York Times of the romcom at a conference with Diaz recently.
"But we share a mentality that, when it comes to comedy, the bottom line is it being as funny as it can possibly be, and that involves being pride free.
"That could have been awkward with a different partnership. But we laughed so much more than we cringed."
And he said of the scene in Sarah Marshall: "One of the pitfalls of a romantic comedy is that you know how it's going to end."
"The guy and the girl on the poster are going to end up together. I felt like if the main guy showed his [penis], you're forced to sit back and say, 'I have no idea what's going to happen in this movie'."
In Sex Tape, a saucy bit of fun turns into a couple's worst nightmare.
Diaz and Segel play a couple who, while hoping to bring some excitement into the bedroom, accidentally send their naughty home movie to the majority of their friends and family.
- Daily Mail