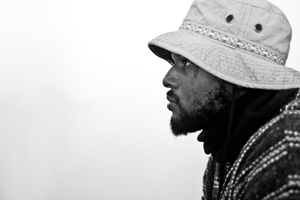 If you're going to Schoolboy Q's Wellington show tonight, here's some advice worth heeding: Don't stand under the venue's light fixtures.
The LA rapper packed such a full throttle punch at the Logan Campbell Centre in Auckland last night that at least one light cover fell from the ceiling, shocking surprised fans crammed into the GA section below.
Secondly, don't pass out in the front rows. If you do, Schoolboy Q might just haul you up on stage and get the entire venue to laugh at you.
"That happens a lot at my shows," the German-born, Los Angeles-based rapper told one exhausted punter who was rescued from the venue's heaving moshpit and allowed to catch his breath on stage next to the LA rapper.
But here's the third thing piece of advice worth following: if you do end up on stage next to Schoolboy Q, don't smoke whatever it is that's lined up next to the DJ's decks.
No sooner had the euphoric fan replenished his energy, lit something up and started dancing again, he was manhandled off stage by security. Talk about a buzzkill.
It was one of many memorable moments on a hyper-real night of hip-hop, one that promised much after Schoolboy - one of the year's breakout hip-hop stars - sold so many tickets the show was moved from the relatively tiny Studio to the Logan Campbell Centre.
That's a venue more than three times the size, and it was heaving with hip-hop fans ready to party right from Isaiah Rashad's sweaty opening set of grinding Southern bass lopes and slurred grooves.
It was the perfect set up for Schoolboy's hit-heavy set that came crammed with many of the highlights from his slightly wayward album Oxymoron of earlier this year, delivered in a relentlessly energetic and near faultless performance.
It might have only been just over an hour, but Schoolboy's energy levels shined throughout, like his excited star jumps during Collard Green's thumping shuffle, his machine gun-miming shenanigans during Break the Bank, and his orchestral direction during Hell of a Night's clubby vibe.
Schoolboy - real name Quincey Matthew Hanley - was even better when getting as grimy as possible, like the thrilling grunt of Gangsta, the sinister grind of The Purge, the manic Hands on the Wheel, and the clipped chorus of early hit There He Go.
Best of all was Oxymoron, the title track and sole encore that proved this Schoolboy might be relatively new on the scene, but he's capable of delivering a rap masterclass that - judging by those light fittings - very nearly bought the roof down.
Schoolboy Q and Isaiah Rashad
Where: Logan Campbell Centre, Auckland
When: Friday, June 13
- nzherald.co.nz