When The Wiggles visited the Starship hospital, 4-year-old Jaxon Seilala was one of the few children treated to a special high-five.
The preschooler, one of about 70 children entertained by the popular children's group yesterday, said he was happy to be picked out by Yellow Wiggle Emma.
The stars were joined by radio personality and "honorary Brown Wiggle" Robbie Rakete, who said visiting sick children was always rewarding.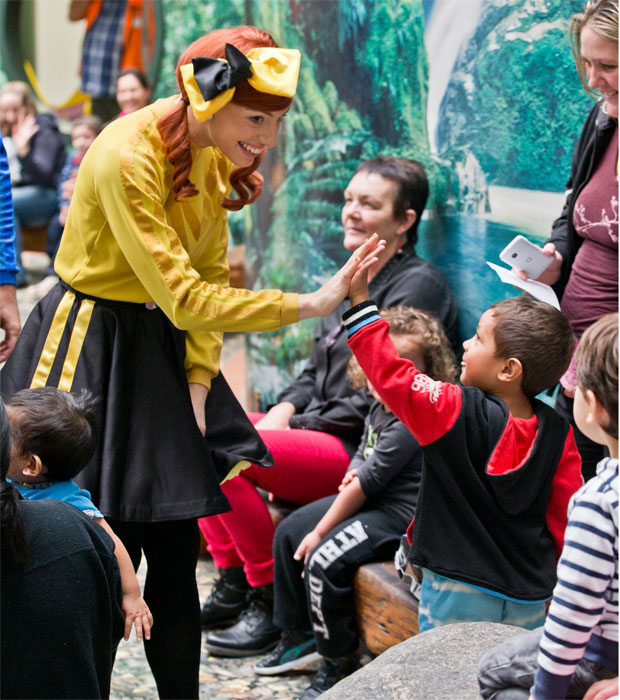 Yellow Wiggle Emma treats Jaxon Seilala to a high-five during the group's visit to the Starship yesterday. Photo / Greg Bowker
"I'm lucky that I get to have an experience like this with The Wiggles who are just, besides being a phenomenon around the world, the nicest bunch of people. Any chance to help them and make some kiddies smile, that's just a wonderful opportunity."
Nurse adviser Cath Byrne said the visit was welcome entertainment for the children.
"We rely on entertainment from DVDs and other sources to distract children from what can be painful procedures so our patients are very familiar with The Wiggles," she said. "They had the children laughing and singing along and it was a real high point in their day."
Rakete said the best part of performing in hospitals was making the children happy.
"When you look out and you see a kid dressed like Captain Feathersword you realise the impact The Wiggles have had. Watching these kids get into what The Wiggles do, watching them smile and sing along, that's great."
Rakete joined The Wiggles late last year after joking about being the fifth Wiggle on his radio show. He contacted Anthony Field, the only remaining original member, and appeared in shows last November. He now calls himself an "occasional" Wiggle.
The Wiggles are here to promote their upcoming NZ tour which starts next month.