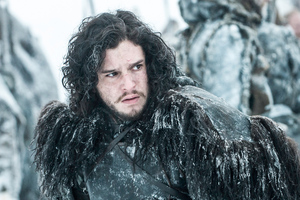 Game of Thrones actor Kit Harington's hair has its own contract.
The 27-year-old actor plays Jon Snow, a rugged warrior with long locks, on the hit HBO series Game of Thrones.
According to the actor, the show's executives won't even consider allowing him to cut one centimetre off his coiffure.
"It has its own contract, definitely," he revealed during a chat on American daytime TV show LIVE with Kelly and Michael.
"I never thought I'd say that about my own hair I'm not allowed to cut it, and I didn't realise this until recently. I wanted to cut it - I've had long hair for ages - and and they were like, 'No, no, no. That won't be happening'."
Harrington jokes his hair has been quite a contentious issue behind the scenes.
He has attempted to come up with solutions to haircuts, like adding a hair weave during filming, but bosses weren't open to the suggestion.
"They don't like doing that," Kit said of weaves.
"It's very funny when you get into these things, and people get very obsessed by little things. There's all of these ridiculous conversations that go back and forth between agents and managers and HBO: 'Can we have four inches off or can we have an inch off? What can we do with this? How curly should it be? It's silly'."
Game of Thrones is currently airing on HBO and its season four finale will broadcast on Monday on Sky TV's Soho channel.
- WENN