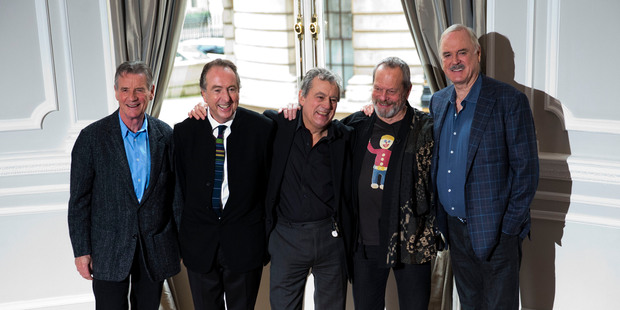 Everybody expects the Spanish Inquisition. And as with all things Monty Python, fans need to expect the unexpected.
Next month, the surviving Monty Python members reunite onstage for the first time in almost 35 years -- and, they say, the last.
Fans understandably want to see the anarchic comedy troupe's classic skits. They're hoping for Spam, lumberjacks, dead parrots and, of course, the red-robed cardinals who burst in to proclaim: "Nobody expects the Spanish Inquisition!"
Troupe member Eric Idle assures fans they will get the old favourites -- but they are also in for surprises. "I've got one or two up my sleeve that will absolutely freak people out," said Idle, who has taken the lead on assembling the 10 performances at London's O2 Arena.
The Monty Python Live (mostly) shows will take place between July 1 and July 20, with the final performance beamed into movie theatres worldwide -- including New Zealand.
"It's not five old guys on a stage doing old sketches," Idle said of the show, which has a budget of US$3.5 million ($4.1 million).
The 15,000-seat stadium will be filled with the help of an orchestra, film footage, special effects and Terry Gilliam's surreal animation.
There will be plenty of "rude songs and rude dancing" from 20 singers and dancers -- the approach Idle adopted during the 2012 Olympics closing ceremony. "Who wants to look at a bunch of old guys? Put some attractive young people onstage," said the 71-year-old Idle.
The sixth member of Monty Python, Graham Chapman, died of cancer in 1989 but will be present in recorded form. Carol Cleveland, who appeared regularly on the Pythons' 1970s TV show, will also take part.
"It's a revue -- 'Deja Revue,' as I call it," Idle said. "What I've tried to do is make a sort of necklace -- and we'll be the jewels. I've tried to make it segue into each other like the old Python shows used to do." Idle says he's looking forward to the live transmission's potential for chaos.
The five comedians have had their disagreements over the years -- but they still make one another laugh. "I think everybody is much mellower, and happy," Idle said.
Monty Python members have had busy solo careers and have reunited because they needed money. The five were left with a large legal bill last year after losing a lawsuit brought by movie producer Mark Forstater over royalties from the stage musical Spamalot. "We were in a mess," Idle said, until an adviser suggested putting on a show to clear the debt. "It changed everything round, and everybody got excited."
With just under a month until the July 1 kickoff, Idle has one gripe. It's about the Royal Canadian Mounted Police, whose scarlet tunics are essential to a famous skit featuring a singing, cross-dressing lumberjack.
"The Mounties have seized all Mountie uniforms throughout the world, so you can't get them anymore," Idle said.
"But we're not going to be stopped from doing The Lumberjack Song, no matter what they do. So we may be up for extradition."
What: Monty Python Live (mostly) the recording of the Monty Python's reunion shows at London's O2 Arena
When: Showing at New Zealand cinemas from August 6.
- AP