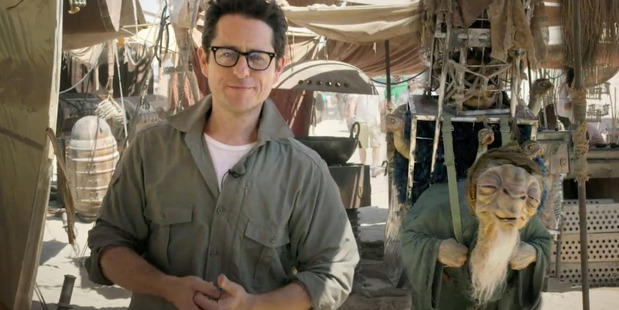 At first glance, JJ Abrams' response to leaked shots from the set of Star War: Episode VII seems to pour water on the fans' hopes that the Millennium Falcon will feature in the movie.
But fanboy Abrams knows his audience, and that the Star Wars faithful will look at little closer at any cryptic clue ... so he's turned his official comeback into a cheeky confirmation.
The usually secretive director shared a picture of a note on which he'd written that he wished people would stop 'making ridiculous claims that the Millennium Falcon is in the movie,'
But it's what the note is pinned on to, in the shot, that now has fans in a froth.
June 4, 2014
Those familiar with the original movies recognised instantly that the note was pinned quite clearly onto the Dejarik table from Hans Solo's ship.
The hologram game board hosted the famous match between R2D2 and Chewbacca in Star Wars - Episode IV: A New Hope back in 1977, which is of course, where it all started.
This is quite the departure for Abrams, who usually guards his sets' secrets fiercely.
It suggests that as a fan of the Star Wars films himself, Abrams is aware of how highly anticipated the next episode is and is prepared to join in on the build up fun.
In other Star Wars news, Josh Trank will direct one of the planned stand-alone Star Wars films.
Lucasfilm has announced that the 30-year-old filmmaker will helm one of the two announced Star Wars spin-offs being made outside of the third trilogy.
An earlier announced spin-off is to be led by Godzilla director Gareth Edwards.
Trank is the director of 2012's found footage-style science fiction thriller Chronicle. He is working on The Fantastic Four, the superhero team-up reboot scheduled for release next year.
Lucasfilm gave no details on the subject of the Star Wars film.
Meanwhile, Lupita Nyong'o and Game Of Thrones star Gwendoline Christie are the latest cast additions for the new Star Wars film.
Oscar winning Lupita - who won the Best Supporting Actress gong for her role in Steve McQueen's 12 Years A Slave - will join other Star Wars newbies John Boyega, Daisy Ridley, Adam Driver, Oscar Isaac, Andy Serkis, Domhnall Gleeson, and Max von Sydow in the latest instalment of the sci-fi franchise directed by JJ Abrams.
"I can finally say it loud and proud," Lupita wrote via Instagram alongside a snapshot of the Star Wars logo. "I'm going to a galaxy far far away."
Meanwhile, 6ft 3ins Gwendoline currently plays soldier Brienne of Tarth in hit HBO TV show Game Of Thrones.
The two actresses will be joining the original stars of the saga - Harrison Ford as Han Solo, Carrie Fisher as Princess Leia and Mark Hamill as Luke Skywalker in the new film.
Beloved characters C3P0 (Anthony Daniels), Chewbacca (Peter Mayhew) and R2D2 (Kenny Baker) will also return.
"[I could not be more excited about Lupita and Gwendoline joining the cast of Episode VII," said Lucasfilm president Kathleen Kennedy. "It's thrilling to see this extraordinarily talented ensemble taking shape."
Ever since her Oscars triumph back in March, Lupita has been linked with a role in the hotly anticipated Episode VII.
Reports surfaced claiming that the Mexican-born actress met with director Abrams a few weeks prior to winning the Academy Award for Best Supporting Actress.
When asked for comment, a representative for the 12 Years A Slave star told Latino Review: "We're not allowed to talk about that."
British actress Gwendoline will also appear as Commander Lyme in The Hunger Games: Mockingjay - Part 2.
Star Wars: Episode VII is scheduled for release in December 2015.
- The Daily Mail, AP