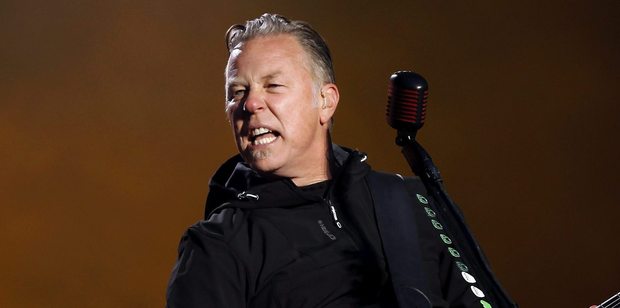 Metallica's headline slot at this summer's Glastonbury is under fire due to frontman James Hetfield's associations with bear-hunting.
The heavy metal group's booking had been met with controversy due to their sound not fitting the typical "hippy" vibe of the festival.
Now, the band's co-founder, a member of America's National Rifle Association, is set to narrate an eight-part TV series called The Hunt, documenting the killing of Kodiak brown bears in Alaska.
News of the show has been met with outrage from animal rights activists, with an online petition demanding that Metallica be removed from the Somerset festival's line-up.
One angered music fan set up the Facebook page, "Remove Metallica from Glastonbury Festival for their Support of Bear Hunting", which more than 18,000 people have 'liked' since its 25 May launch.
Creator Richard Fraser writes: "Metallica's lead singer James Hetfield is a big game hunter and promoter. This is incompatible with Glastonbury Festival ideals and brings its good name into disrepute."
There has also been a strong Twitter reaction to what many see as Hetfield's "glorifying" of hunting, despite Alaskan laws siding in favour of the activity as a regulated sport.
@Metallica Love the music, hate the hunting, no more buying music from someone who can't respect life #hetfieldSucks

— Pat Araiza (@paraville) June 4, 2014
Sorry James Hetfield, #Metallica will always have my support, but YOU, personally, as a hunter, do not. http://t.co/NkG02IRSMZ

— PRThatRocks.com (@prthatrocks) June 4, 2014
Metallica's James Hefield to narrate a bear hunting doc'??, expect a barrage of thrown hummus at #Glastonbury

— Midge (@Midge_UK) June 1, 2014
I am against 'hunting for fun' obviously. Not convinced there's an argument to remove Metallica from Glasto... http://t.co/gdGrUxIb30

— Fox James (@MetalMouthNet) June 3, 2014
The protest to get Metallica off the Glastonbury lineup because James Hetfield goes hunting is ridiculous

— Valtari (@suftgronge) June 3, 2014
The History Channel, which will host The Hunt, issued the following announcement about their programme: "While getting a bear is no easy task, most hunters still value time-honoured traditions by hunting with bow-and-arrow, black powder single-shot rifles, and/or use the minimum amount of technology possible.
"Honouring the animal is paramount and taught to all hunters who come to the island. Hunters have an ethical and legal responsibility to strive for clean kills that is taken very seriously. There are pages of stringent regulations they must follow that ensure respect for the animal and the land."
As of yet there has been no response statement from Hetfield.
Metallica are due to headline Glastonbury alongside Arcade Fire and Kasabian at the Worthy Farm event later this month.
Drummer Lars Ulrich was "ecstatic" at the booking, with organiser Michael Eavis describing them as "one of the most amazing rock bands in the world".
Metallica have defended themselves from criticism, arguing that "the fact that everybody's got an opinion means people still care".
- Independent