Hollie Smith is off to the biggest jazz festival in the world after roping in some musical mates to help get her there. Russell Baillie reports.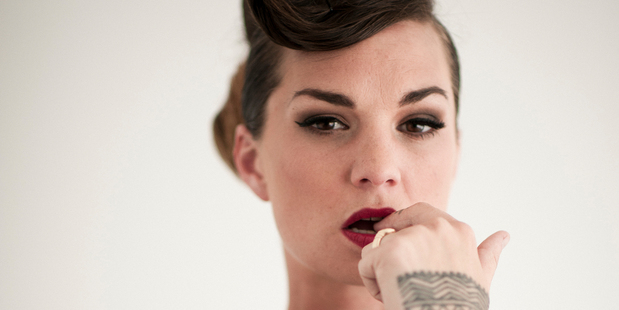 First the good news. Hollie Smith is off to the Montreal Jazz Festival later in the month.
That's quite a coup for the singer-songwriter. It's the biggest such event in the world and she'll be playing on a bill which also features Diana Ross, Aretha Franklin, Beck, Ben Harper, BB King, and Keith Jarrett among others.
The bad? The woman with the big soul voice will miss out on seeing the queen of the genre. Smith and band have a gig in New York that night.
"We're missing Aretha Franklin by a day which is heartbreaking," says Smith during a break from preparing for her send-off show next week.
The Montreal excursion is part of an Up Over adventure for Smith and her new band which also takes in playing for the New Zealand team and supporters at the Glasgow Commonwealth Games - an encore from serenading the team at the London Olympics - as well as the Edinburgh Fringe Festival and shows in London and Berlin.
Smith was picked up by the Montreal Jazz Festival when one of its promoters saw her at a showcase gig in Australia. But so the northern hemisphere jaunt doesn't end up costing her money, Smith has put together a fundraising show with a bunch of mates (see Lowdown) at the Kings Arms on Wednesday June 11.
The night will include raffles of various sponsors' products. But sadly, given the pub venue, no meatpacks.
"It was getting pretty close actually," laughs Smith. "I was going to do a sausage sizzle but they wouldn't let me for health reasons."
The night will also be a chance to see Smith and her fresh team of backers -- bassist Marika Hodgson, drummer Tom Broome (who also play together in The Means and and Sorceress) and on guitar, her latest recruit, "young, very impressionable jazz student" Guy Harrison.
"I've been working [live] with just my guitarist for a couple of years bringing it right back to basics. But as much as I really enjoyed that I was really missing the bigger picture as well. Obviously I am writing another album at the moment and trying to establish that. Trying to set my sound up for where I want the next album to go."
Smith's last recorded output was her album with Anika Moa and Boh Runga in early 2013. Before that was her Band of Brothers studio project with Mara TK in 2011.
She concedes there's been bit of a gap since her own 2010 second album Humour and the Misfortune of Others, but she's started thinking about what her next studio move should be. Not that she's in any rush.
"I have kept busy with different things but I haven't done a proper Hollie Smith release for a while.
"But all sorts of things play into that. One is that I haven't really had the inspiration. There's been no songs I've been overly excited about. That is starting to come now which is good.
"I want to make this next release a really really solid one as well. Just rebrand everything and get back in control of what my direction is and where I am going. I'm just holding back a little bit to do the best I can do because there is just so much amazing music to compete with -- not that I do it to be in competition -- but I like to feel I am putting my best foot forward, not just releasing something because it has been a certain time."
As for where she's heading musically -- more guitar, less piano, more edge and energy.
"I'm writing more on guitar because I am not as experienced as I am on piano. So it means that there is a little more simplicity involved ... Alabama Shakes kind of soulish maybe. Just a bit edgier."
But first she's got a couple of long haul flights in front of her after what sounds like will be a fun night at the King Arms, and she's quite chuffed with herself about getting that organised so quickly.
"I was quite proud of myself. I did all this in a day and a half. I am almost in the wrong industry. I'm very good at this. Hustling free shit -- I should do this more often."
Who: Hollie Smith
What: Fundraising Concert also featuring MC Tali, King Kapisi, Sunshine Soundsystem, The Means, hosted by Shavaughn Ruakere and Helena McAlpine
Where and when: Kings Arms, Wednesday June 11 (doors: 6.30), Presales though eventfinda.co.nz
- TimeOut