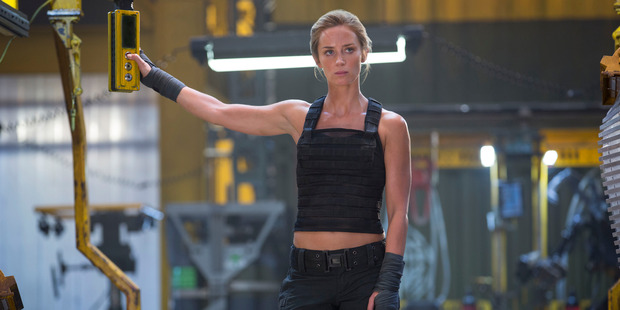 1. Edge of Tomorrow, in cinemas now
Imagine being poor Emily Blunt in Edge of Tomorrow, and having to help Tom Cruise overcome his terrified incompetence over and over and over again in order to try to save the human race from extinction. Yep, Cruise might have the action flick experience, but Blunt is the real hero in this Doug Liman blockbuster which crosses Alien with Groundhog Day, and has had some great reviews for it's ability to take tired sci-fi tropes and turn them into something fresh. Plus you get to see Cruise tackling a role which has him behaving like a bit of a douche for once.
2. Wine Cellar 10th Anniversary, Friday
Ten years is a pretty impressive stint for a bar in Auckland these days, so it's worth marking the birthday for K Rd's Wine Cellar, which has done such admirable and excellent service as a down-at-home yet very welcoming drinking hole, and of course, a bastion of the local music scene, providing night after memorable night of musical magic. No other venue has given me as many excellent musical introductions, nor such a sense of camaraderie, so head down below St Kevin's Arcade on Friday where at least 10 bands (and probably more) will help to celebrate, and there will be plenty of mulled wine to boot.
3. The Fault in Our Stars, in cinemas now
Do you want to spend your weekend crying like a baby? Then this is the movie for you. Based on the much-loved novel by John Green, the film tells the tale of a romance between two cancer-stricken teenagers. Starring new Hollywood "It" girl Shailene Woodly, as well as Ansel Elgort and Laura Dern, there has been months and months of anticipation amongst fans of the book and it looks like they won't be disappointed (read our review here). The only important piece of information you need though? Don't forget the tissues. Seriously. Just don't.
4. Ellie Goulding, Vector Arena, Saturday
When TimeOut's Lydia Jenkin spoke to her last week, Ellie Goulding had no idea what day it was. But we are pretty confident someone will make sure she gets to Vector Arena on time this Saturday for the first of three New Zealand shows. And with album sales bumping 4 million, tours with Bruno Mars and a heap of awards to her name, it's going to be one heck of a show.
5. Auckland International Cabaret Season, Auckland Town Hall Concert Chamber, Sunday
Sunday is your last chance to experience the joy and surprise of cabaret at this short, but sweet, festival. In the cosy venue, decked out with traditional cabaret table seating, you can see Julia Deans take on Joni Mitchell's songbook, the Modern Maori Quartet deliver a sound that's been described as being like "golden syrup on hot fried bread" and the Grammy-winning Lady Rizo, who will make you laugh and hum along in equal parts.
- TimeOut