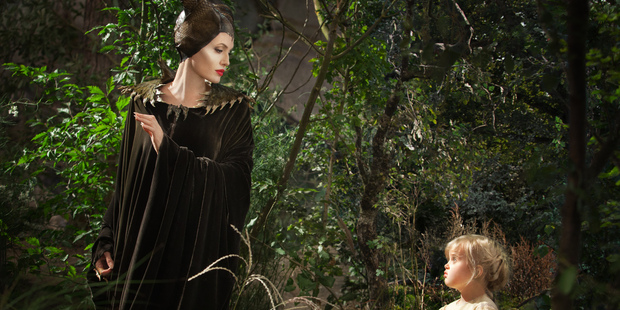 The "prequel" or "re-interpretation" is popular these days, mostly when it comes to extending the life of comic book franchises on the big screen. This time round one of our best-known fairy tales, Sleeping Beauty, gets the treatment.
This visual effects-heavy film takes its inspiration from various versions of the Sleeping Beauty story, focusing on the villainous Maleficent, who placed the curse on Aurora, the King's daughter.
Maleficent was a Disney creation who first appeared in its 1959 animated feature Sleeping Beauty, and we go back to discover the dark tale of how this fairy had her pure heart turned to stone.
It's a fairy tale of epic proportions, filled with fiery dragons, robust battles, mythical creatures of all sizes, and characters blinded by greed and revenge. Set in the late medieval or early Renaissance period, Maleficent tells the story of two rival kingdoms, one filled with humans and ruled by ambitious King Stefan (Copley), the other a place of peace and beauty filled with mythical creatures protected by the fairy Maleficent (Jolie).
When Stefan betrays Maleficent, darkness creeps into her heart and the fragile peace between the kingdoms comes to an end. Maleficent, in all her newfound evil glory, places a curse on the king's daughter so that on her 16th birthday she will prick her finger on a spinning wheel needle and fall into a death-like sleep. Maleficent then watches over the young woman (Fanning) as she grows up, and is reminded of her own happier days growing up in the Moors.
Set- and costume-wise, some inspiration has come from designs in the original film, but they've been recreated with a slick, darker edge. It's no surprise this film looks gorgeous, director Robert Stromberg has a couple of Oscars tucked away at home for art direction on Tim Burton's Alice in Wonderland and Avatar. Here too, he successfully takes us on a journey into a well-conceived fantasy world that, along with a thunderous soundtrack, plenty of action and effects, is overwhelming and impressive.
Though Maleficent takes no time at all to charm you with its glossy good looks, it takes a little longer to draw you into this story on an emotional level, but thanks to Angelina Jolie's ability to convincingly be both the villain and the hero, it gets there in the end. Just.
Not only does Jolie look striking on screen with her cheek prosthetics, horns and a voice as enticing as it is terrifying, she captures the complexity of her character, who is good and bad, revengeful and regretful. She's also, thankfully, funny, especially when dealing with sidekick Diaval, a raven she turns into a human played with the perfect amount of indifference by English actor Sam Riley.
Cast: Angelina Jolie, Elle Fanning, Sharlto Copley
Director: Robert Stromberg
Running time: 97 mins
Rating: M (fantasy violence)
Verdict: Disney gives a classic story a dark twist in this visually impressive flick

- TimeOut