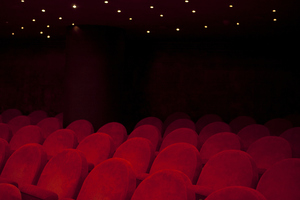 The most fun you can have at the movies this weekend isn't joining the throng at your local multiplex - it's watching the 14 finalists in this year's 48Hours Grand Final at The Civic tomorrow night.
The prize-giving in the annual competition - which started with nearly 700 teams around the country spending an April weekend writing, shooting, cutting and panicking - has always been highly entertaining.
The combined effect of watching the inventive films with the finalists and their supporters in attendance makes for an evening where even non-participants get caught up in all that infectious enthusiasm the teams have put into their movies.
As as well as grand champion, there are more than a dozen prizes for everything from technical work and performances to the best use of the character, prop and line every film had to include.
The 14 grand finalists include 10 selected by the competition's overseas judges and a further four wildcards chosen by Sir Peter Jackson.
TimeOut has seen all the finalists. Here's the shorts we think you should keep an eye out for tomorrow night - or seek out afterwards:
Flicker by Asylum (Auckland): One of Sir Peter's wildcards, this creepy technical marvel of home invasion across the ages has a good chance of taking out the top prize with its time-travel crime thriller.
Rubble by Noise and Pictures (Wellington): This account of four co-workers trapped in a building after an earthquake is a claustrophobic wonder with a gasp-inducingly brave ending.
The Ex by TBALC (Christchurch): This team drew "rom-com" in their genre but that didn't stop them creating this hilarious valentine to The Exorcist and other horrors of its ilk.
Pants on Fire by Lense Flare (Auckland): Regular contenders in the 48Hour finals, this year team Lense Flare have outdone themselves with a firefighting musical in which they don't actually sing Burning Down the House but they actually do it. Just hope everyone signed all the required forms beforehand.
What: 2014 48Hours Grand Final
Where: The Civic
When: Friday May 30, 7.30pm start time
Streaming live: On nzherald.co.nz
Info: 48hours.co.nz
- TimeOut