We trawl through the gossip mags, so you don't have to.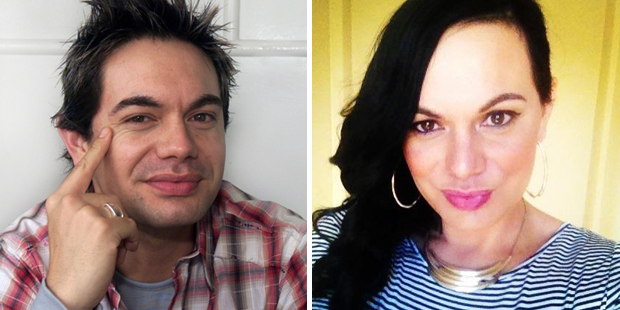 1. In a brave interview with New Zealand Woman's Weekly, former New Zealand Idol contestant Nik Carlson has spoken about now living as Nikki Lee Carlson. The singer, who came second to Rosita Vai in the singing competition in 2005, has been living as a woman for a year, and says she hopes to make the road easier for others. "I never felt that I was trapped in a man's body. It's just that I always knew there was another part of me. I always knew that I would eventually evolve into a woman." Carlson has been on hormone therapy for 18 months to physically enhance her feminine features, ans hasn't ruled out the possibility of gender reassignment surgery in the future.
2. "I thought I was way too old to do pilot season in LA," Tandi Wright tells New Zealand Woman's Weekly. The 43-year-old star of Nothing Trivial was approached by a US management company who convinced her to spend eight weeks in the States trying to secure a part in new TV shows. "At about week three I went completely mad.
I thought, 'What am I doing here?' I had to face the possibility I might fail completely, but then I thought, 'Hang on, what is failure anyway?'" And she didn't fail - Wright says she's proud to have made it to the final three for a lead part in a show's pilot episode.
3. Benji Marshall says he "didn't want to leave" New Zealand. In an interview with Woman's Day, the league star and wife Zoe talk about their short stay here and the reason they returned to Sydney. "I tried really hard to make it work, but I guess, in the end, I had to put my hand up and say I wasn't good enough," the former Blues player says. Now, back in Australia, Zoe's "job is to look after [Benji] and make sure there's food in the fridge when he gets home at night" - and the pair have started to talk about kids, something she "didn't feel comfortable enough" to do in New Zealand.
4. Hit radio trio Fletch, Vaughan and Megan say it was hard keeping quiet about their move from The Edge to ZM, but now they are back on the airwaves "order is restored", they tell WD. The former afternoon hosts were sworn to secrecy about their new breakfast slot - which meant some "wacky" rumours were flying around - but made the most of their three-month break. Vaughn Smith played house dad to daughter Indi, Carl Fletcher holidayed in Colombia and Megan Sellers hung out with her "toyboy" Andrew Papas. At 20, the Titanium singer is nine years Sellers' junior. "Andrew's so sweet. He will set his alarm at 4am just to make sure I'm up and don't miss work. After all, this sugar mama's got to get that pay cheque."
5. Mr Pua Magasiva certainly has been getting his face around the mags recently. Not that we mind. And this week, in New Idea, the Shorty St star's face is being lent to a cause close to his heart (no pun intended) - a heart health campaign to raise awareness about the dangers of high cholesterol. After finding out his dad, Ropati, needed a pacemaker, health and fitness has become even more important to Magasiva - especially when it comes to his daughter, Jasmine. "I want to be in my daughter's life and to be able to play with her for as long as possible," he says. "She makes me play tea parties with her and pretend I'm a princess, which means I have to put on a girl's voice and dress up."
- nzherald.co.nz