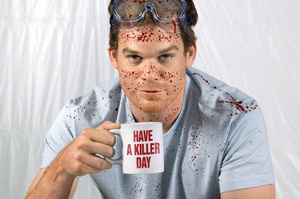 * This story contains spoilers.
Michael C Hall has spoken out about the controversial ending for his hit serial killer show Dexter, saying he didn't watch the finale because he didn't like it.
The show ended last year with a closing scene that showed Dexter living in a log cabin after faking his own death. It caused an uproar among fans and critics - some who called it "a terrible end" and a "betrayal of the show's characters".
Hall, who played the serial-killer-with-a-conscience for eight seasons, admitted his feelings about the show's ending to The Daily Beast.
"Liked it? I don't think I even watched it," he said. "I thought it was narratively satisfying - but it was not so savoury."
Hall blamed the show's closing sour note on writers who had run out of storylines.
"I think the show had lost a certain amount of torque," he said. "Just inherently because of how long we'd done it, because of the storytelling capital we'd spent, because our writers may have been gassed.
"Maybe some people wanted a more satisfying-maybe they wanted a happy ending for him, either a happy ending or a more definitive sense of closure."
The Daily Beast said Hall's new role - as a murderous suburban dad in the movie Cold In July - was eerily similar to that in Dexter.
- nzherald.co.nz