Dame Kiri takes audience on lyrical and dramatic journey, evoking memories of her early career on the way.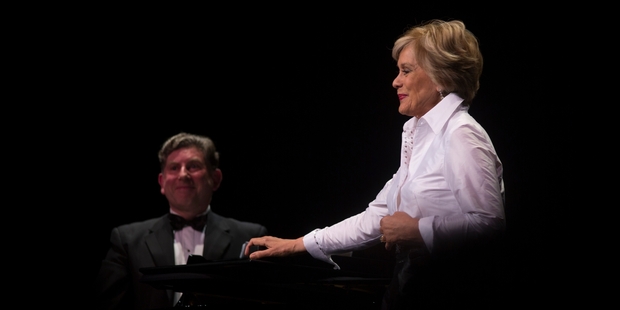 Tuxedos mingled with pullovers at Dame Kiri Te Kanawa's 70th birthday concert and a full Aotea Centre testified to the affection and admiration the soprano has earned from a wide spectrum of New Zealanders.
Once on stage, her connection with us was immediate and personal.
We laughed at talk of "nasty sandwich breakfasts" in Dunedin; gasped with sympathy at flu bug encounters in Australia and laughed again when, channelling Lorelei Lee, she revealed a preference for presents that are small and glittery.
I was reminded of a packed town hall almost 50 years ago when the young Kiri made her first farewells.
Introduced as the "most beautiful Maori maiden since Hinemoa", she gave us songs, arias and the inevitable Pokarekare Ana, even crooning Love is a Many Splendoured Thing with folksters Lou and Simon.
2014 brought a classier playlist, working from Alessandro Scarlatti to an elegantly understated third encore of Luther Vandross' Dance with my Father.
One could not expect Scarlatti's Caldo Sangue to have the vocal lustre of vintage Te Kanawa but the musicianly control was exemplary. Vado, ma Dove, the second of two Mozart concert arias, allowed her to relax in lambent lyricism more than the first; in the following Puccini bracket, Signore Ascolta touched hearts right through to its final and courageous top note.
After the interval, Te Kanawa was playfully coquettish in Canteloube's Malurous qu'o uno Fenno, with Terence Dennis effecting sonic alchemy at the Steinway.
Poulenc was the star of the French bracket. Te Kanawa caught the languid ennui of his Hotel, pining for a cigarette and ending in a mock slump on the piano.
Folksongs like Scarborough Fair and Danny Boy brought back memories of Te Kanawa's early career and there was dramatic fire and soul-searching in Jake Heggie's final monologue from Master Class, in which momentary shrillness added to its theatrical character.
The "R" word came up when we were told that Heggie has written her some new songs. "The announcement of my retirement has just been exaggerated," she explained. "There is no such word."
Concert review
What: Kiri Te Kanawa
Where: Aotea Centre.