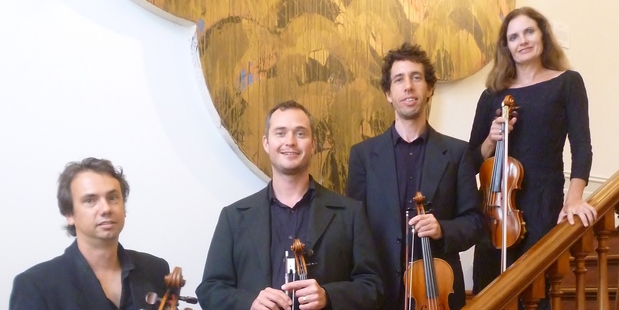 Miranda Adams is one of our best-known musicians as assistant concertmaster of Auckland Philharmonia Orchestra, yet this is just one aspect of a busy and community-serving career.
Adams has played klezmer with composer Jonathan Besser and led her own tango band, Vivo; and her name often crops up in those squint-sized credits on local rock albums as a session violinist.
"Next week, Robert Ashworth and I have a whole day of recording with Sean Donnelly," she says, going on to enthuse over her sessions with local schoolchildren as part of the APO's education programme. "I'm so lucky I'm able to wear different musical skins. It's what keeps me inspired. If I'd only done orchestra I would have burnt out."
This afternoon, she leads the Jade String Quartet in a concert of Haydn, Beethoven and Anthony Watson against the art-saturated walls of the Pah Homestead.
"Sir James Wallace has been wonderfully supportive," she explains. "When the Pah first opened, he asked me to organise a Mendelssohn octet.
After that, he was happy to host regular quartet appearances."
The other three members of the group -- violinist William Hanfling, violist Robert Ashworth and cellist David Garner -- are also in the front desks of the APO. But, for Adams, playing as an ensemble "creates a very special camaraderie".
"There's no conductor so you make the decisions yourselves," she says. "That's huge. You can choose tempi, phrasing and articulation. Improvisation can be fun, too. Even in classical music, we like to do a bit of our own thing, just like the musicians did all those centuries ago."
Haydn's Lark Quartet, which opens today's concert, "is full of surprises", Adams warns. But then what else would one expect from the composer of the Surprise Symphony?
"It's quite raunchy," she says. "Haydn's got such a sense of humour -- the last movement is so downright funny that I find myself laughing as we play it. Yet the slow movement is something else."
Hanfling leads the group in Beethoven's Opus 127 Quartet, the only one of the composer's late quartets that Adams has not yet played.
"It's really hard," she shudders. "There's this huge slow movement that's the heart of the piece. It goes through such incredible transitions that it takes some time to figure out how everything fits into the bigger scheme of things. Sometimes you want to emphasise the harmonic changes, sometimes you want them to settle very subtly into the texture."
The Jade String Quartet is committed to New Zealand composers and each concert this year features a Kiwi composition. In March, it was Tumbling Strains by Eve de Castro-Robinson (who "knows how to pick up an idea and go with it"); August's programme includes a new commission from John Elmsly.
We hear Anthony Watson's third quartet, his last substantial work to be written before he committed suicide in 1973. "You can sense the tragedy, the black thoughts going on," says Adams. "This was a guy who really went to the edge, to the extreme. For a work of such power, it's not performed enough."
Performance
What: Jade String Quartet
Where and when: Pah Homestead, 72 Hillsborough Rd, today at 5.15pm