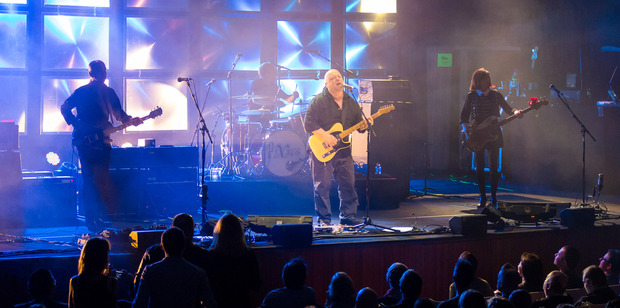 A man with sideburns, braces and a bum bag has his eyes closed while his body twitches and spasms in ecstasy.
Nearby, a woman in a stripy dress is dancing like she's in the opening credits of The Muppet Show, her arms flaily wildly with each swing nearly hitting the people around her.
Upstairs, a builder with overalls, an afro and a paunch is banging out rhythms angrily on the stair railing. Next to him, a dad-type with a cardigan and glasses air drums along with David Lovering, matching him beat for beat.
One couple dressed especially for the concert in matching pig and cow onesies.
Yes, the crowd watching the Pixies perform the second of four nights at the Sydney Opera House are as random and eclectic as you could imagine.
As a mate sitting next to me quips: "Sydney's babysitters are making a lot of money tonight."
If the crowd's making you raise an eyebrow in amazement, wait till you see what's going on on stage.
After unleashing that primal, feral howl during opener U-Mass, front man Black Francis dances a little jig during Monkey's Gone to Heaven, takes a phone from his pocket occasionally to snap the front rows, and even smiles during the first standing ovation of the night that came after the thrillingly raucous Vamos.
He still doesn't say a single word to the crowd, but Francis appears to be enjoying himself.
Next to him, guitarist Joey Santiago unleashes one thrilling riff after another - but it's during Vamos that he really gets the chance to cut loose, strangling his guitar and using drumsticks and amplifier plugs to create Rage Against the Machine-style samples.
New bassist Paz Lenchantin - a replacement for Kim Shattuck who lasted three months after replacing Kim Deal - seems to fit right in, bouncing around and jumping up and down during some of the show's more feisty moments.
Surprisingly, when they play Blue Eyed Hex - an AC/DC riff-and-shout-fest from their recent album Indy Cindy - the Australian crowd doesn't seem to get it. Andro Queen - a warped newie reportedly about alien sex - gets the same reaction but its warped space vibe deserves better.
But mostly, the Pixies' Sydney Opera House show is a rambunctious, confrontational blast from the past. Bone Machine, Debaser, Gouge Away, Here Comes Your Man and Where is My Mind? all get wickedly delicious outings, bringing the crowd to their feet and dancing and singing along in unison.
No opening act and little crowd interation - just two hours and 31 songs of pure Pixies, who proved they're still as weird and wonderfully bonkers as their fans.
That standing ovation lasts for minutes - and they deserve every second of it.
Pixies
Where: Sydney Opera House
When: Saturday, May 24
* Chris Schulz travelled to Sydney courtesy of Destination New South Wales and Qantas.