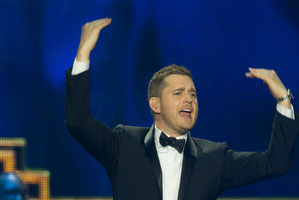 Michael Buble was a few days late for his New Zealand show last night. Not because it's been more than a decade since he was last here, but because it was clear, just moments into what was close to two hours with the suave Canadian, that he really should have been part of the recent comedy festival.
For a man who largely sings other people's songs, Buble has done okay for himself. This certainly isn't a pub-covers-band kind of performance. It's part Rat Pack throwback, part highly inappropriate laugh-fest, all wrapped up in a James Bond-esque tuxedo.
Most of Buble's jokes - and there were a lot - are unrepeatable, but that didn't put anyone off. Quite the opposite, in fact. The audience of women (and the odd man)-of-a-certain-age and who really should know better, screamed, swooned and giggled in every corner of Vector Arena. And can you blame them?
How Buble has made it from unassuming cruise ship performer to sold-out arena star is something of a mystery.
He said if it wasn't for his wonderful 13-piece band, he'd just be an average karaoke singer. But with eight albums to his name, and four Grammy Awards on the mantelpiece, there's no denying his success. Is his voice good? Sure. Does he ooze charm and charisma? Most definitely. But the fact is, his polished performance comes down to picking great songs to fill a slightly old-fashioned live jukebox.
As he glided his way through the back catalogues of Frank Sinatra (You Make Me Feel So Young) and Van Morrison (Moondance), Buble had the world on a string (yes, he sang that too). There were Beatles and Bee Gees, the Jackson 5 and the Temptations - Buble even dragged things back to 2014 with a version of Daft Punk's Get Lucky alongside his surprising support act Naturally 7.
But you can't forget Buble actually has his own songs, and Home and It's a Beautiful Day went down just as smoothly.
This isn't reinventing the wheel, this isn't music pushing the boundaries. But bless him, Buble knows exactly how to put on a damn entertaining show. And he'll do it all over again tonight for a second show at Vector Arena.