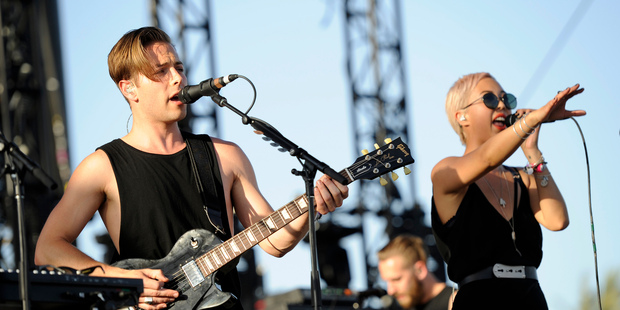 Auckland's Powerstation was teeming with people last night for The Naked and Famous' headlining homecoming.
After sitting among the festival line-ups of Coachella, Groovin the Moo and Big Day Out, as well as touring with US band Imagine Dragons, The Naked and Famous finally returned home to play a show of their own - and what warmer welcome could you get than playing to a sold-out crowd?
In the darkness an echoey synth chord filled the room, followed by the quick acoustic strumming on A Stillness, the opening track from the band's latest album In Rolling Waves.
The energy from the audience was electric as singer Alisa Xayalith, with her rock-chic pink pixie-cropped hair, shifted between whispers and wails on the song, amid blinding strobe-light flashes. The droning bass shook the whole venue, which had quickly turned into a thrashing dance party.
Continuing straight into Hearts Like Ours, it was obvious that the band are becoming seasoned professionals, due to years of constant performing. Musically, they sounded incredibly tight, while still holding a rough rawness, that came through in the vocals, reminiscent of 90s band Garbage.
Singer Thom Powers took the lead on Girls Like You getting the wall to wall crowd jumping and singing along. Between songs the band attempted some banter, but you could barely hear over the massive sound coming from the excited audience. Even during slower, moody, songs like Waltz, there was a unceasing rumble from the crowd.
Grow Old, found the room lit up with purple stars, made from disco ball mirrors, as Powers sung gently through a vocoder, creating a dreamy slow dance, which then turning it into an angsty cry from Xayalith, over a chorus of clashing symbols.
If All Of This, from the bands first album Passive Me, Aggressive You, didn't turn the entire place into one giant mosh pit, then Punching In A Dream certainly did.
Jumping between soft, synth moments, to eruptions of intense, head-bang-worthy ones, the Naked and Famous love musical juxtapositions. They did this both from song to song, as well as within tracks like Frayed and No Way.
The band also took advantage of a great lighting production, which helped emote the music and turned their performance into a full theatrical show.
After being welcomed back on for an encore the band tried to share a few words but were only able to stand speechless and smiling as every punter in the elated room roared and cheered, before launching into The Mess and To Move With Purpose.
The night ended where it all started with hit anthem, Young Blood, which had the entire audience dancing harder than ever, as bubbles floated down from the ceiling.
The Naked and Famous play The Powerstation again tonight.
Who: The Naked and Famous
When: 16 May (and tonight 17 May)
Where: The Powerstation, Auckland
- nzherald.co.nz