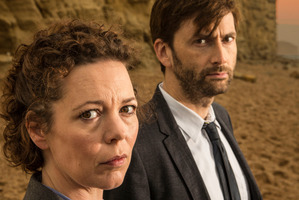 A child's body. A killer on the loose. A troubled cop. A close-knit English village with deep, dark murderous secrets ... stop me if you've heard this one before - because I know I have.
According to the blurb on the box, TV One's new Sunday night Brit plod drama Broadchurch (8.30pm) is just that: just another bloody Sunday night Brit plod drama. Just another reworking of familiar plots and characters with the same old crime drama tropes (but with the ever-so-handsome Scottish actor, and former Doctor Who, David Tennant being all broody, na-wat-ah-meen?). Just another British police procedural set in an idyllic English village. Blah, blah, blah.
Actually if I'd known before I sat down to watch it that Broadchurch was what it is, then I'd have probably thrown myself off a cliff to get out of watching it.
So imagine my surprise when not long into last weekend's premiere episode I found myself (ahem) arrested by this eight-parter's class and style.
The drama's creator and writer, one Chris Chibnall, is yet another of the Doctor Who alumni who seemed to wield such influence over British TV right now (Sherlock's co-creators Steven Moffat and Mark Gatiss are the obvious others). Even Broadchurch's two directors, James Strong and Euros Lyn, are from the same Doctor Who club. Yet there is nothing Who-vian, nothing glib, silly or indeed sci-fi (not yet anyway) about Broadchurch.
The title comes from the name of the idyllic British village (in this case an imaginary one on Dorset's so-called Jurassic Coast) where, as the first episode opened, a small boy, blood dripping from his hand appeared to leap from a high cliff to his death on the beach.
It turns out this is 11-year-old Danny Latimer who, in the middle of the night has some how left his family's home and ended up dead. But was he killed?
The man charged with solving what is very quickly determined to be a murder is the village's new detective inspector, one Alec Hardy (Tennant), a broody, grumpy bugger from the city. Clearly he's been involved in a controversial cock-up back in the town and has come down to Broadchurch village to get his career and possibly his life back on track.
He's been partnered with Ellie Miller (the excellent and understated Olivia Colman), a local copper who has just returned from holiday to find that her boss has decided not (as promised pre-holiday) to make her the village's new detective inspector, but has instead hired Hardy, evidently an old friend of the boss.
Miller's son turns out to be Danny's best friend and, as the episode closed, we watched him delete texts and his computer history after being told of Danny's death. How terribly suspicious etc.
The wild card appears to be Olly, a young reporter on the local paper, the Echo, who we learned is Ellie's nephew, and is desperate to get a job with the big, London-based nationals. He endears himself to no one when he tweets that the dead body on the beach belongs to young Danny, and the village goes into shock.
So far, not so great, at least on paper, you might think.
However Broadchurch is the sum of some very good other parts: taut dialogue, good direction (though I did groan a bit at some of the set piece shots of the grieving Latimer family) and very nice acting, particularly from Colman, but also from Tennant. And the village and the coastline look lovely in unusually consistent sunshine.
Last week first episode was so neatly tired up too, with a closing montage sequence of village characters looking like they all might be guilty of this awful crime. Or possibly they're just grieving. In any case, while there are seven episodes to go, Broadchurch might almost relieve me of my prejudice against the Sunday night Brit plod drama...
- TimeOut